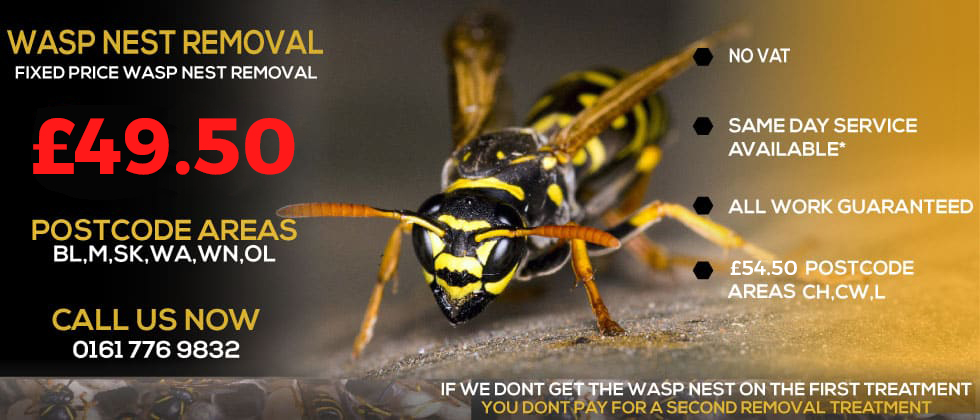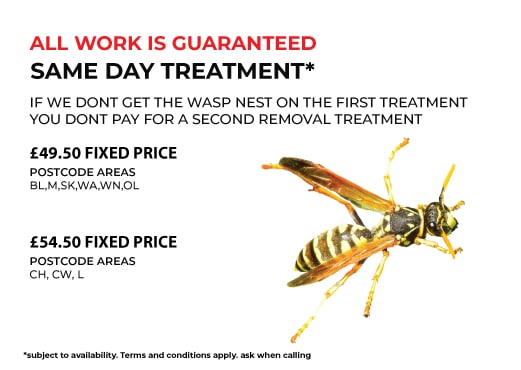 Need Help? Call Us On 0161 776 9832 For Expert Pest Control Advice On How To Identify Pest Infestations And Help Solve Your Pest Problem.
Croxteth Wasp Nest Removal
Are you looking for a wasp exterminator? A wasp infestation is the worst thing for anyone to have to deal with. These insects attach themselves to buildings, structures and can attack your children or pets when you least expect it. While it may seem cheaper to get rid of the wasp nest by yourself, it is undoubtedly expensive in the long run. In addition, you do not have the right equipment and tools, and this could hugely backfire on you. To avoid all these problems, you should hire professional wasp nest removal experts. Besides knowing what is required of them, the exterminators ensure safety for the occupants. Therefore, it is crucial to know that your best shot lies in finding the right wasp nest removal services as a homeowner. Here are some features to look out for in an exterminator.
Features of a Good Wasp Removal Service
Experience
Customer service
Cost
Ethica
Experience is Key
Experience can be measured in different ways. However, the best way to check the background is the number of years the wasp removal company has been in the game. A company working as exterminators for ten years will serve you better than one who just ventured yesterday. Besides the knowledge of wasp removal services, they should also know how to exterminate the pests safely.
High-Quality Customer Service
How does the company receive new clients? Customer service is also a crucial feature when finding a good wasp extermination service. You can start by calling or emailing the providers. A good provider should have prompt and helpful responses to their clients. If you notice rudeness in the initial consultative sessions, you need to steer clear and check another wasp removal service provider.
Variety of Treatment Methods
While you are looking for a wasp exterminator, you need to know that there are different wasps, and they react
differently to particular insecticides or extermination methods. As such, you need to find a wasp nest removal company that can use other plans for the extermination. The right provider will assess your home and give you a tailor-made wasp removal and control approach depending on the infestation at hand.
Certifications
Does your selected company have the proper documents? Before they can start offering these services, they should have their certifications, e.g., being Certified by the NPTA. These allow them to practice in the given jurisdiction. Besides the permit, it also means that your selected wasp nest removal company has undergone extensive training on pest control.
The Wasp Control Packages
What pest control packages do they have for you? Most companies have different packages depending on your infestation. If you deal with a hornet and wasp infestation, you can always go for the hornet and wasp control package. This is because these two pests go hand in hand, and exterminating both leaves your premises clean and safe. Your children and pets deserve a wasp-free environment.
Wasp Nest Removal Cost
How much are you willing to pay for the
services? The wasp nest removal cost can be reasonably affordable or expensive, depending on the company you choose. When selecting based on the price, you should concentrate on getting great prices without compromising the quality of the services. Compare at least three or four companies and compare their wasp removal quotations.
Environmental-Friendly and Approved Products
What kind of products do they use to get rid of a wasp nest on your premises? There are many products in the market, but not all of them are friendly to the environment. When choosing a pest control company, you should find one that has embraced environmental-friendly and approved products. You want a greener environment.
Finding an excellent Croxteth wasp nest removal service is your best option to get high-quality services and satisfaction. These are professional, and they know their way around wasp nest removal and pest control
activities. Find one with a navigable website and with clear prompts that you can quickly follow. Companies should offer 24/7 customer support so that you can always get through to them at any time. Finally, find a hornet and wasp control company that values your time.
L11