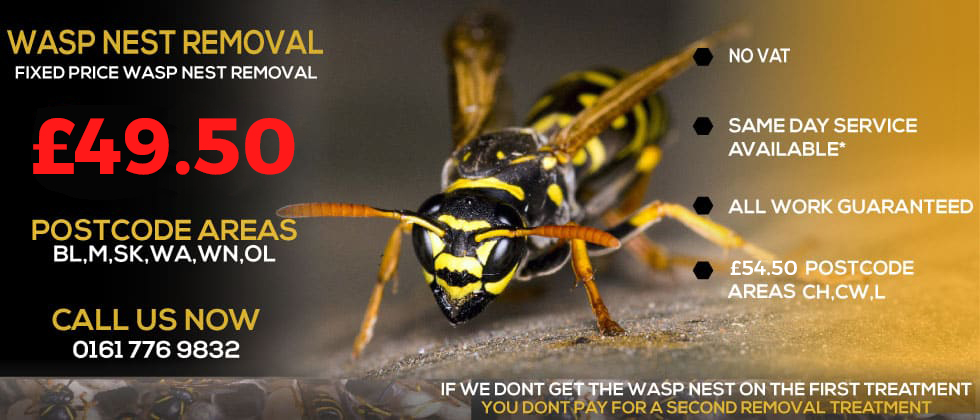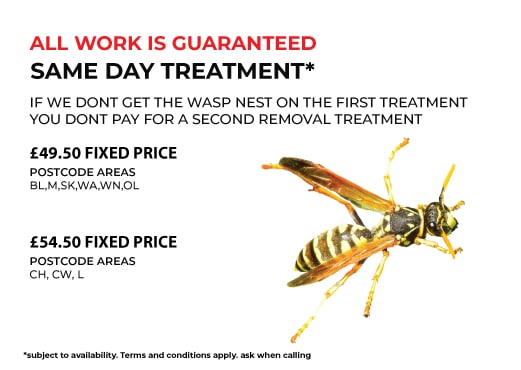 Need Help? Call Us On 0161 776 9832 For Expert Pest Control Advice On How To Identify Pest Infestations And Help Solve Your Pest Problem.
Fazakerley Wasp Nest Removal
Why You Should Professionally Get Rid of Wasps
Spring signals a period in which homes are
faced with the arrival of various pests, with the most common being wasps and hornets. Unlike bees, these tend to be a little more aggressive when their nests are disturbed. One nest may hold a colony of between 5,000 to 10,000 wasps or hornets towards the middle of summer.
If you are spotting more than just a few lurking in your home, particularly around the gutters or your garden, it could mean you have a lot to deal with and could be the prime time to call in Fazakerley Wasp Nest Removal.
Where do they nest?
Wasps are attracted to places that make it easy for them to breed and feed and build nests. These include:
Guttering and facias
The attic and loft
Air bricks
Garden sheds
Garage
Tree stumps
Bushes
The good news is, wasp nests are not harmful when undisturbed. However, inside, there are solitary and social wasps. The solitary ones can be a danger when disturbed. This is why you need a professional wasp exterminator to get rid of the wasp nest. Here are the risks you may face if you choose to go it alone, ignoring the need for expert hornet and wasp control.
Possible anaphylaxis, a severe reaction that will require immediate medical attention
The venom in the string could cause other wasps to be aggressive
More than 30 strings could be fatal
Stings in the chest, neck and face could aggravate swelling
While there are many places where wasps build nests, the most challenging areas of elimination are inside attics, walls and other hidden parts inside a structure. If you notice these, call a pest control company to destroy the nest.
How Long do the Nests Last?
Wasps love warm temperatures. They begin to show up in Spring and multiply throughout summer. Most of the time, the nests can last for at least three months when not attacked by predators or eliminated by hornet and wasp control service providers. If you do not get rid of a wasp nest in good time, they may stick around. As soon as a colony is formed, the worker wasps tend to defend their habitat with aggression.
For an effective wasp treatment, professional Fazakerley Wasp Nest Removal is required. Usually, wasp nest removal cost is pocket friendly. Never attempt to get rid of the nest by yourself. Instead, hire an expert wasp exterminator. Multiple treatment products can be found online, most of which are misleading. As soon as the wasp's sense danger, they will prepare themselves for an attack and look for backup from other colonies. The stings are excruciating and, in some cases, can be life-threatening. Some people, including children and pets, may experience severe allergic reactions to the stings.
Choose Expertise
Hiring a professional pest control service
provider will mean accuracy in hunting down the right pest. It is not possible to eliminate pests when not accurately identified. Professionals will also help you discover the source of the pests while protecting your health and your property.
Young's Pest Control is an experienced and professional pest control company. Should you spot signs of a wasp nest, especially when summer is in full swing, call our team any time of day or night. We offer a specialised wasp nest removal service, using an effective and safe method. Our wasp nest removal cost is also friendly. This means that you do not have to try risky do-it-yourself ways that could harm you and your loved ones.
After treatment, we do not remove the nest immediately. Instead, we recommend a waiting period of about a month before its removal. This ensures that all absent wasps return to their colony and be
contaminated by the insecticide used. So, if you are dealing with a pest issue, be sure to contact us today. We have the experience, the expertise, and the tools needed to eliminate all pests. With over 20 years of experience, our services will ensure your safety and eliminate risks to health issues, as well as entirely get rid of the pesky critters.
L9
L10