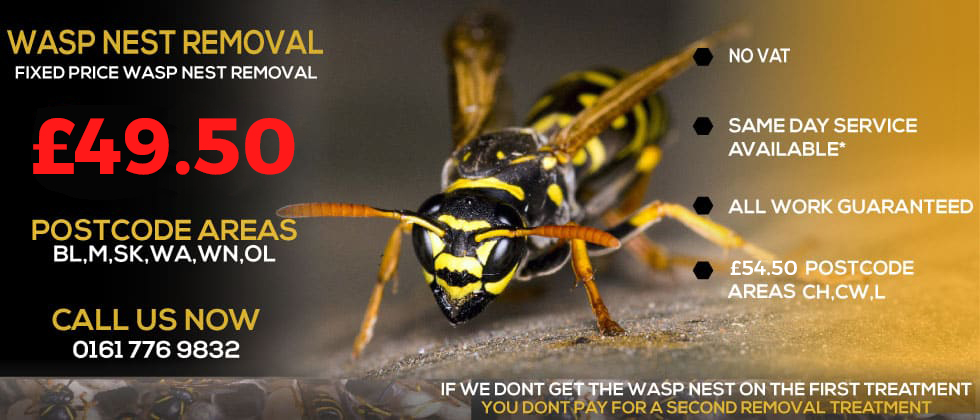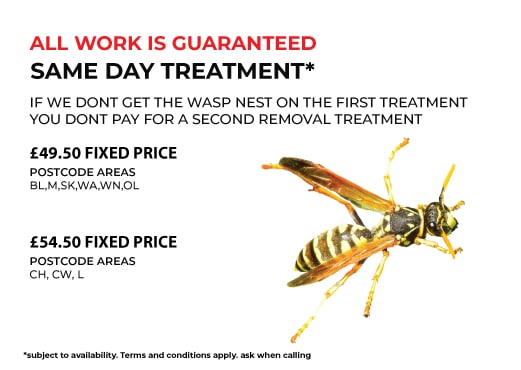 Need Help? Call Us On 0161 776 9832 For Expert Pest Control Advice On How To Identify Pest Infestations And Help Solve Your Pest Problem.
Uppermill Wasp Nest Removal 
Perhaps you have been stung by a wasp before; you then know how painful the sting is. When you get
stung by a wasp, your body secretes histamine, which in some cases, tend to be a life-threatening situation. It does not just leave you with a painful yet swollen skin, but it may also result in some allergic reactions.
 Most people tend to get rid of a wasp nest whenever they see them in their homes. We can call that a suicide mission, which you must never try to remove by yourself under no circumstance. 
 What we are saying is, wasps can release pheromones which makes them attack as a swarm. Their ability to give many painful stings makes it vital for you to get a professional to effectively get rid of the wasp nest.
 Usually, wasps set their nests in the openings or your property's walls. When left, they'll tend to eat the plaster on the walls, causing a lot of damage to your property. As a result, you may end up spending large amounts of money to repair the damage caused.
 Therefore, we highly recommend you to call experts
with the right equipment and tactics, believe me, if you try doing it yourself; you will regret disturbing the nest of these furious pests.
 Are you wondering where to find wasp nest removal service in Uppermill? If yes, Young's Pest Control has got you covered.
 They have a team of professionals who get rid of wasp nest more effectively without jeopardising your safety. Therefore, you can trust them to protect your home, commercial building, and family from harm. 
 How Young's Pest Control can help you with your Uppermill Wasp Nest Removal
 When it comes to Hornet and Wasp Control services, Young's Pest Control is your ultimate choice. Their
experts can quickly identify and get rid of all the wasp nests at your home or commercial property. The good thing is that they use only safe and humane Uppermill wasp nest removal methods that assure remarkable results.
 Besides, they are qualified, and the company has been in the pest control business for years. So, you can rest assured to get the most exceptional wasp control services you desired. 
 Moreover, they use personal protective equipment and suitable equipment to do the job correctly. With vast years of experience, their experts know what they are doing – no guesswork. In other words, you will always find the most reliable wasp exterminator for the job.
 Benefits you'll enjoy with Young's Pest Control.
 Fixed prices
 One good thing with Young's Pest Control is that they provide Hornet and Wasp Control services at a flat rate cost. 
 Fast and reliable service
 Are they looking for a wasp exterminator to control wasp infestation in your home? Well, Young's Pest Control will always get to you on time. They are well aware of how dangerous wasps can be, and that's why they have one of the fastest response teams in the UK. This means that you can contact their experts, and right away they'll be on their way to help you with the situation. Regardless of the time of the day, you can expect to get help whenever you need.
 Fully discrete Hornet and Wasp Control service
 Young's Pest Control performs its tasks using unmarked vehicles. Therefore, they can get in and out of your home or commercial property without anyone noticing them. And your neighbours will not even know that your family had wasp infestation. Plus, all of their wasp control experts are very friendly and secretive.
 Offering localised Uppermill Wasp Nest Removal services, Young's Pest Control is dedicated to giving
their customers protection against wasp infestation. Their team of professionals has incredible skills and experience in wasp nest removal. Hence, they guarantee you a satisfying experience that you can't get anywhere else.
 There is no reason to put yourself, loved ones, or property at risk due to wasp infestation. You don't have to be afraid of wasp nest removal cost any more, contact Young's Pest Control today and a wasp exterminator will be at your door in no time.
OL3