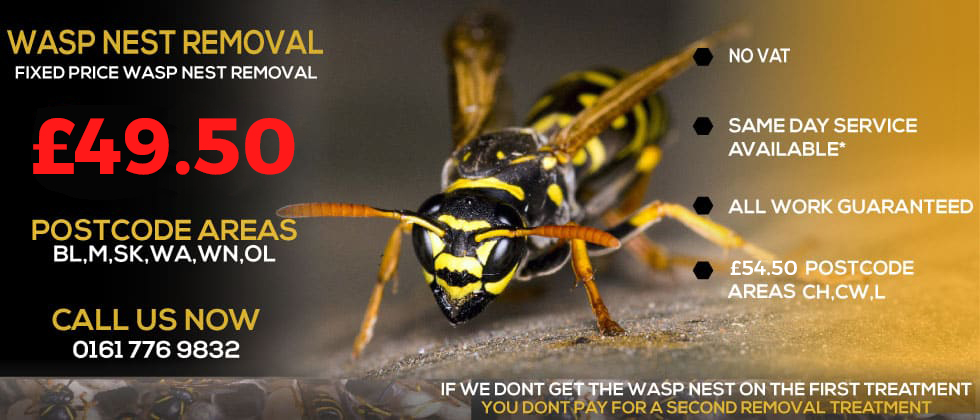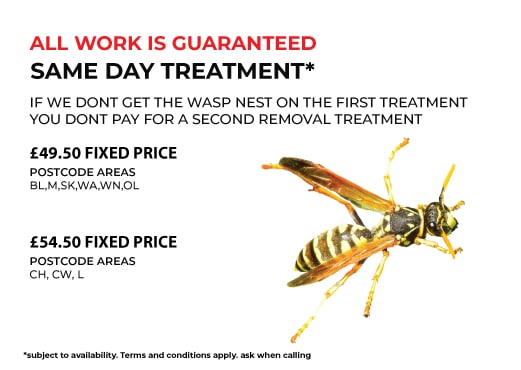 Need Help? Call us on 0161 776 9832 or drop us an email for expert pest control advice on how to identify pest infestations and help solve your problem.
Expert Mossley Wasp Nest Removal Treatments
Everyone loves summer time. It is a time when the world becomes greener and higher temperatures abound. Unfortunately, there is a significant rise in the population of wasps. While this does not bother a lot of people, there may be times when you find that there is a nest on your property. The same can also be said for those who own a business. The last thing you need is a nest of wasps on your property, scaring away the customers. As a result, we are able to provide Mossley wasp nest removal treatment which can be of great benefit to you and your customers.
Getting Rid of Wasps
It is important to remember that hornet and Mossley wasp control is not a task to be taken lightly. In fact, getting rid of a nest is a very dangerous procedure and can sometimes end up with hospitalisation. This is why it is best to call in a professional who will be able to help you with any issues that you have. We have a range of techniques and equipment which will allow us to effectively remove the nest. With our years of experience, all you will have to do is phone us up so that we can give you the best deal.
Choosing the Right Option for Wasp Removal
When it comes to your home, you do not want to suffer from wasps and hornets. These can pose a very large danger to your children, especially if they are very young. They may be curious about something and end up getting badly stung. For business owners, it is not nice to see these creatures buzzing around. It can also end up causing a lot of problems for customers and may end up driving a lot of them away.
Whether looking for Mossley wasp nest removal treatment,  wasp control or you just want to get rid of a hornet, make sure to give us a call. There is a lot to be said for the different creatures that you can find here so make sure that you use us to keep your home pest-free.