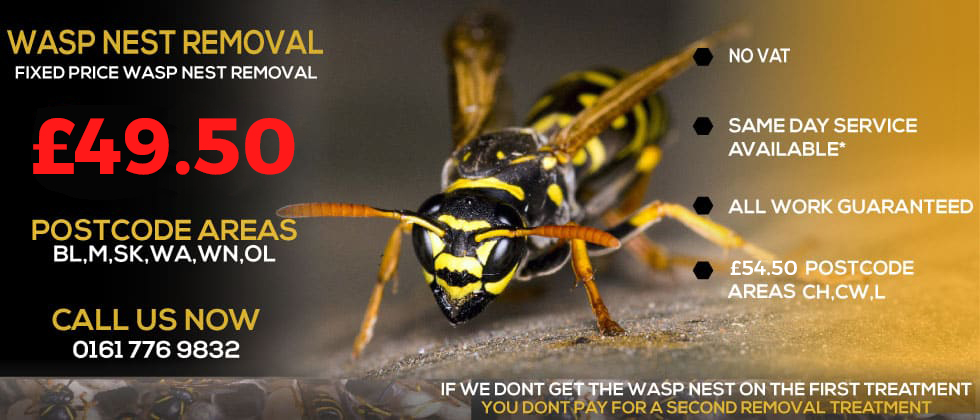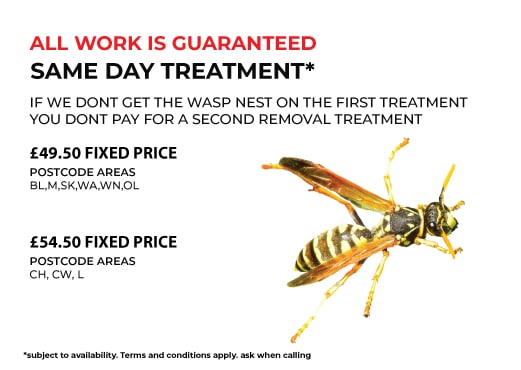 Need Help? Call us on 0161 776 9832 or drop us an email for expert pest control advice on how to identify pest infestations and help solve your problem.
Heywood Wasp Nest Removal Treatments
There is nothing more worrying than discovering that you have an insect infestation on your property. Finding a wasp nest is extremely disconcerting and knowing what to do is very important – do not attempt to remove it yourself, call the professionals in Heywood wasp nest removal treatment!
Worry about wasps


Unlike bees, wasps are definitely not friendly critters and, therefore, it is necessary to deal with them swiftly and effectively. Here are some reasons why:
• If you swat a wasp and it stings you, a pheromone in its venom can make nearby wasps become more aggressive and attack.
• If you are allergic to hornet stings, then you are extremely likely to be allergic to wasp stings as well.
• Just like the hornet, wasps do not die when they sting.
Wasp removal - what you should do
When you find a nest, there are some things you can, and should, do in order to keep yourself, and those around you, safe from potential stings and allergic reactions:
• Under no circumstances should you attempt to disturb the nest or deal with the problem yourself – wasps will swarm!
• If at all possible, cordon off the area and make sure that family pets and young children cannot gain access to the nest.
• Ring Heywood wasp control professionals.
What we offer
• We offer affordable, 24-hour pest and Heywood wasp control in the Greater Manchester, Cheshire and Merseyside areas to both residential and commercial customers.
• There is no call-out charge and we can offer you a fixed price for Heywood wasp nest removal treatment, meaning there are no hidden costs!
• We are specialists in dealing with a number of pests such as wasps, rats, hornets, fleas, bedbugs and more; we are also very discreet – no-one will know you have an infestation.
• As well as one-off, pest control services, commercial customers can also sign up to contract service, meaning that we will regularly monitor your business to ensure no pests infiltrate your property; any that manage to will be dealt with immediately.
Pick up the phone and give us a call today, we are here to help you deal with your pest problem.