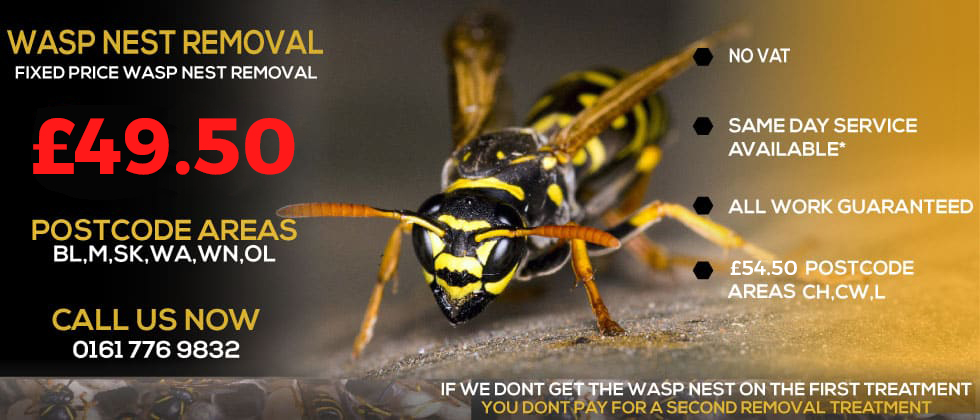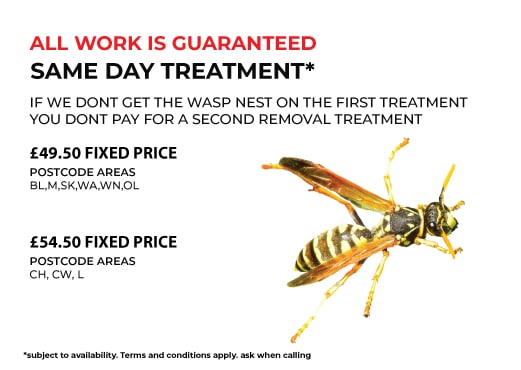 Need Help? Call Us On 0161 776 9832 For Expert Pest Control Advice On How To Identify Pest Infestations And Help Solve Your Pest Problem.
Shawclough Wasp Nest Removal
The Greater Manchester residential area of
Shawclough is a good neighbourhood to live in. But no matter where you live, your life can be mademiserable by pests. Wasps and hornets are particularly annoying.  They build nests anywhere and turn your property into a danger zone. They can give nasty stings and can creep up on you before you know it. Depending on whether or not you react to stings in an allergic way, that sting can be life-endangering. If a wasps' nest appears on your business premises, it may endanger your staff, upset your clients and even cost you business. If a wasps' nest appears at your home, you'll worry about your family, particularly young children and elderly family members. Happily, the perfect solution is situated locally. Shawclough Wasp Nest Removal carried out by Young's Pest Control. You are in good hands.
Hornet and Wasp Control on your Doorstep
Young's Pest Control professionally removes pests like wasps and hornets from your environment. It's a fact that many people hesitate to call for professional help for pest removal because they don't realise the dangers. Young's Pest Control is on top of its game and uses the latest and most innovative pest control methods. For what amounts to a minimal cost, the company will efficiently and effectively get rid of wasp nest tension for householders and business owners. Why live in tension? Let the professionals do their job. Hornet and wasp control is our job. Not yours.
The Premier Wasp Exterminator
There are several reasons why Young's Pest Control is considered to be the country's premier wasp exterminator company. Let's take a look at a few of them.
It's super-efficient:

 If you call out the company early enough, you can have the dreaded wasps' or hornets' nest removed within the same day. How's that for speed and efficiency? In case you call a little later in the day and depending on the volume of work, we guarantee that we'll be around to remove your wasps' or hornets' nest as early as possible the next day.

It's super-effective:

 Young's Pest Control uses only the most modern, effective and innovative pest control removal methods. Once we remove the wasps' or hornets' nest from your property, you can be sure that it won't be back again. You can have complete peace of mind knowing that your problem is eradicated.

It's cost-effective:

 The charge for wasps' nest removal is reasonable and not half as expensive as you probably think it is.

It's ethical:

 Nowadays, many people have developed a strong affinity with the animal kingdom. There's an awareness that living creatures have as much of a right to the planet as any other creature. That means we don't like to see the inhabitants of the animal kingdom suffer unnecessarily. We keep this in mind and use the most humane methods of pest removal. However, although we keep the safety of the creatures in view, human safety is always our main aim. But you can be sure we deal with the wasp and hornet colonies in as ethical a way as we possibly can.
Wasp Nest Removal Cost
You may be surprised to learn that wasp nest removal cost is not as expensive as you might think.
For a reasonable and affordable cost, you can trust Young's Pest Control, the pest control professionals, to rid you of wasp and hornet tension, leaving you free to take good care of your family and your business. The relief and the peace of mind you will feel once the job is done is our source of satisfaction. 
Set Yourself Free from Wasp Tension
Get rid of wasp nest worries forever. Call Young's Pest Control right away if you spot a wasps' or hornets' nest on your property and leave the pest eradication to us.
OL12