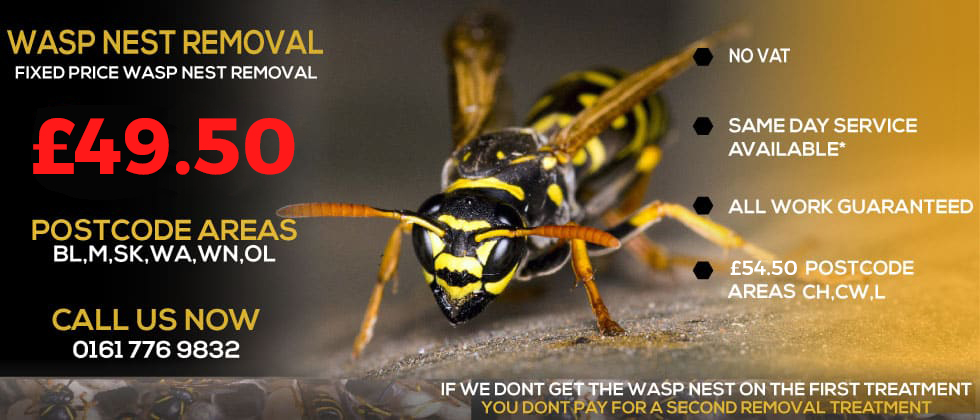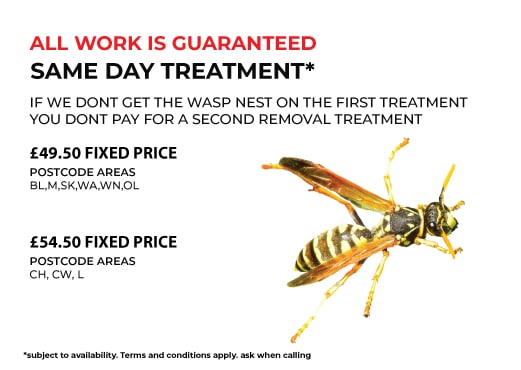 Need Help? Call us on 0161 776 9832 or drop us an email for expert pest control advice on how to identify pest infestations and help solve your problem.
Millington Wasp Nest Removal 
 You should not share your space with wasps for too long. By doing that, you would be putting the life of your loved ones at risk. Instead, seek Millington Wasp Nest Removal services as soon as you see any signs of wasps on your property. Read this piece to understand how you can benefit from the services we provide.
 How to spot Wasps Nest in your house
 You might not have enough time to spot wasps in your compound as soon as it is built, but it shouldn't take you too long either. Fortunately, there are specific areas where wasps spend to build their nests. So those are the areas you need to search before you call us to get rid of Wasp Nest.
 1. Check your Garden
 Your garden might have a scent that attracts wasps to your home. Therefore, if you see any wasp moving around the compound, you might want to check the garden if they have a nest there. When checking the garden, be sure to move slowly to avoid disturbing the nest, which would provoke the wasps. 
 If the garden is big, ask someone to help you search for the wasp nest there. Once you spot the nest, be sure to call our wasp exterminator immediately.
 2. Check above the door
 Is there a door that you don't use most of
the time? Wasps like to build nests above such doors, so that is another area to check. Also, they can have their nest above a window that is normally kept ajar. Our wasp exterminator will help you look for other areas in your home that might have a wasp nest.
 Why you must not remove the nest yourself
 Is your home wasp-infested? There are many reasons why you must never try to remove the wasp nest on your own. First, wasps are so aggressive, and they can hurt everyone in your home if you disturb their nest. 
 The second reason is, you don't have the right skills and knowledge to perform hornet and wasp control on your own. As such, if you spot them, call us immediately, and we will take care of the wasps for you.
 Our Millington Wasp Nest Removal services are the best. We use the right insecticides to treat the nest and make sure that everyone in your home is safe from then on.
 No matter how bad the situation is, don't try to search for information on the internet on how to remove the nest. Such documents are created by people looking to make money, but they are not experts. The only sure way to get rid of Wasp Nest is by calling our team.
 Why you should choose our services 
 With us, you don't have to worry about high wasp nest removal costs because we also care for your finances. While we use the best insecticides to treat the wasp nest, we make sure to charge reasonable prices.
 Also, our services are delivered fast without skimping on quality. Did you know that many people shy away from wasp nest removers because they are not sure about the quality of their work? Some companies do things carelessly and might make the wasps sting everyone in your home.
 Thankfully, we know how to handle the wasps, and they won't have a single chance to sting anyone. Therefore, you can be sure that we will do quality work when you invite us to your home.
 Clear communication is key, and we will do that with you from the start to the end of the project. We will start communicating with you clearly on when we will get to your spot and its duration to get the work done.
 On top of that, we will share our terms of operation with you, including what you will do to help us serve you better. That is how professional our team is. So now you know why you should contact us.
 Contact us
 For more information about our hornet and
wasp control services, check out our website. Use the contact details on the main page to speak with one of our dedicated agents. Once you do that, we will come and treat the wasp nest for you as soon as possible without charging high wasp nest removal costs.
WA14