Important Questions to Ask a Pest Control Company!
Pests in the UK are a common household problem, especially in winter months, when the pests are finding warmer shelter and a source of food. Most people control pests infestation through the use of preventive measures such as maintaining high hygiene standards, but there is also a need to engage a local pest control professionals once in a while for a more comprehensive service.

If you are in Manchester, there is a lot of Manchester Pest control companies, meaning you have to compare several of them before you settle on the best company. The process of selecting the best company requires you to ask some questions to gauge the company's capability to do the job well. So, below are some of the questions you should ask before hiring a pest control company.

How well trained are your technicians?

The skills, knowledge and experience of the pest control company are crucial in determining their success. Controlling pests is not a simple task as there are a lot of factors that they one have to consider before they embark they choose the approach to take in tackling the problem. The technicians must have a proper understanding of particular pest's behaviours and how to best deal with their infestation. The willingness to do the hard job is also an essential factor since quick fixes result to the pests returning within a short time.

For example, if you want a Professional Service Liverpool Mice Control, the company must have served the residents of Liverpool for a long time and must be ready to disclose their technicians; training to anyone who may be interested. If the Professional Service Liverpool Mice control company you contact conceal the information, treat that as a red flag.

Are you licensed and insured?

Licensing is a necessity for any pest control company operating in the UK. If a Manchester Pest Control Company is licensed, it means that the company understands all the safety practices and application procedures to provide you with the best pest control services. The technicians are required to take the relevant courses and continue having on-job-trainings that will improve their application as well as safety skills.

You should also hire a pest exterminator with professional liability and general liability insurance covers to protect yourself from any damage that may occur in the process. Don't hire a company without insurance because your loses will not be covered if something goes wrong.

Can I find testimonials or reviews about your business?

Any professional pest control company should have a way to prove that they satisfy the people they serve. Reviews are the best way to gauge a company's performance, especially if you are selecting them from online platforms. Good performing companies will have their reviews well displayed on their website, but a company that hides their reviews could be because they don't offer the best services. You can also ask several individuals in the neighbourhood about the best pest control company in the area.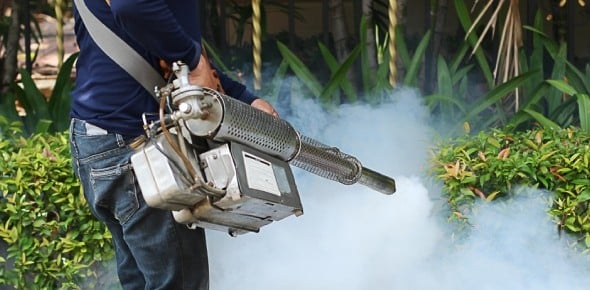 What products do you use? And are they safe for humans, pets and plants?

The use of the wrong pest control can have catastrophic effects on other living things in the compound. The best pest control company should use eco-friendly products that are made from natural sources such as plants. Some pesticides are made of harmful chemicals that have detrimental effects on the environment or may affect your family's well-being after continued use.

The technicians should be aware of the ingredients used to make the chemicals they use to determine whether you need to wear protective masks or leave the compound during spraying. The technicians should also be in a position to advise you on how you should go about the services that have come into contact with the treatment product.

How comprehensive is your service?

There are a lot of factors that will determine the success of a fumigation exercise, meaning pest control companies should offer additional services such as a warranty for the service and regular monitoring of the situation. Some of the pest companies keep close contact with their customers and provide regular inspection while others will only be there for the treatment day.

Don't hire a pest control company that says that they will treat the problem and go; you should be aware that pest control requires continual maintenance and follow-ups. Factors like the environment and the type of pest determine how long your home will stay pest-free, but the re-infestation prevention procedures you use are also important.

Do you offer written quotes, and do you honour them?
Some pest companies will only offer cost estimates to lure you into hiring them, but they will later surprise you with hidden fees. Don't hire a company that gives you a quote without sending a technician to your home for inspection. Sending a technician helps the company to accurately assess the infestation and come up with a proper written quotation that covers all the factors. Lack of an appropriate quoting process can result in the company claiming that you will pay more because the work is more than they anticipated.