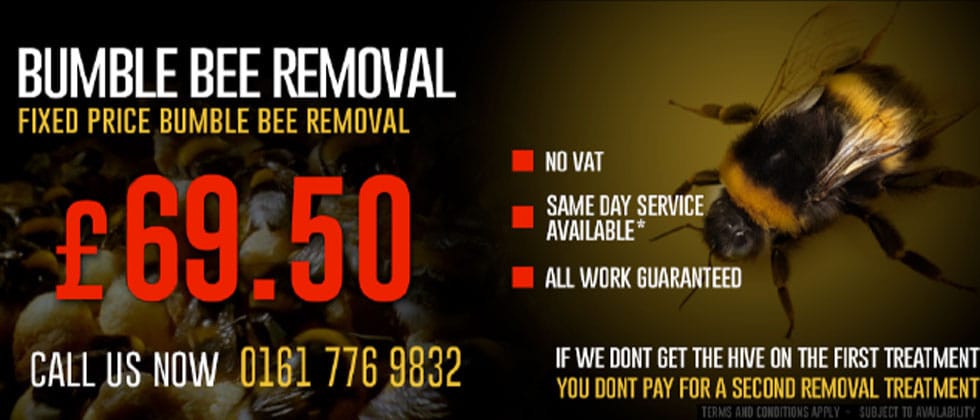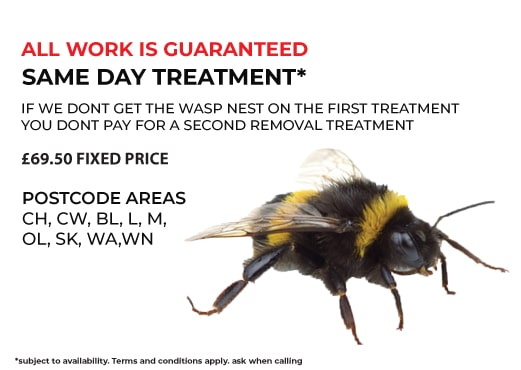 Need Help? Call us on 0161 776 9832 or drop us an email for expert pest control advice on how to identify pest infestations and help solve your problem.
Bebington BumbleBee Control Services
Young's Pest Control offers some of the best Bebington bumblebee control services around at genuinely competitive prices. When bumblebees make their homes where people live, work, and play, they can pose a severe health risk, be a nuisance, and potentially damage the structures they nest in. It is essential to deal with the problem as soon as possible to prevent painful stings and other issues, but moving or treating a bee nest is difficult and potentially dangerous. Fortunately, Young's Pest Control offers 24-hour service and emergency services, making any time the right time to get rid of a bumblebee problem.
Fast, Reliable Service

The helpful staff at Young's Pest Control can respond to customers' Bebington bumblebee control needs any time and can even be there within the hour for emergency service. Compared to waiting for shops to open, spending time choosing a bee control product or finding safety equipment and waiting for a good time to tackle the problem, calling in the professionals makes Bebington bumblebee removal easy. When treating a bee problem, the queen must be moved or destroyed, or the bees will return and rebuild. Professional service by experienced technicians ensures that the whole hive is taken care of, including the queen.
Safety First


Bebington bumblebee control can be risky. Bees, especially the aggressive European tree bumblebees that have recently become common in Britain, will sting to defend their homes. Tree bumblebees, in particular, are very sensitive to vibrations, so even approaching the nest can be difficult and risks an attack.
Most people are too busy learning proper bee handling techniques and don't have access to the right personal protective equipment and defensive clothing experts. Expertise keeps Young's Pest Control staff safe while they tackle the problem.
In addition to the risk of a sting and allergic reaction, bee control is also risky if it involves climbing or crawling into tight spaces where it is easy to fall or become stuck without the skill and experience experts have.
Ignoring the problem of a bumblebee infestation will only make the situation worse. Large nests built-in or around homes can create a lot of noise, block up ventilation openings, and increase the risk of a family member being stung. Tackle the problem today by calling Young's Pest Control.