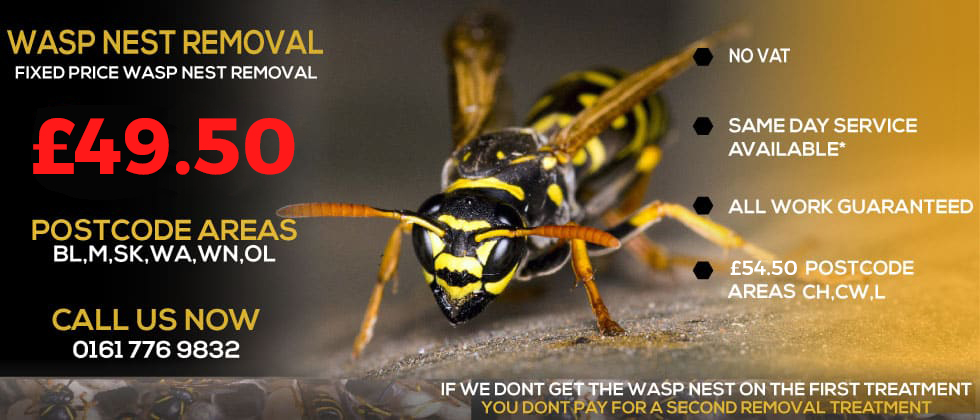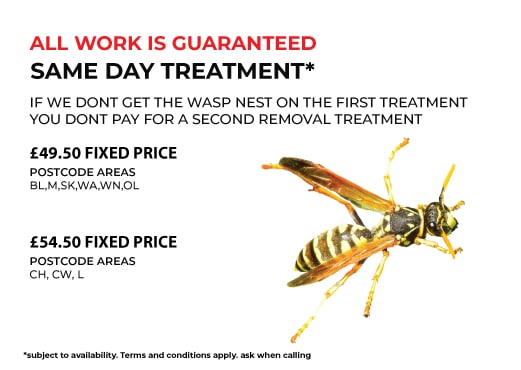 Need Help? Call us on 0161 776 9832 or drop us an email for expert pest control advice on how to identify pest infestations and help solve your problem.
Professional Salford Wasp Nest Removal Treatments
We want our homes to be safe places for our family and friends. The same applies to your business premises. That's why the presence of a wasp or hornet problem at your property requires you to take URGENT ACTION.
Be Aware of the Dangers
-
Wasps & Hornets are aggressive
-Their bites and stings are painful and can cause serious allergic reactions culminating in Anaphylactic shock
-They accumulate in large numbers and attack with multiple stings
-Viciously pursue a victim when disturbed
-Build nests in difficult to find locations
-Can quickly rebuild nests creating ongoing worry and fear
WARNING: Do Not Risk Your Health and Money
-Attempts to remove wasp nests without professional expertise are dangerous, expensive and ineffectual.
-Wasps & Hornets will quickly breed again if their nest is not treated properly
-Buying the wrong insecticides without expert knowledge is expensive and poisonous
-Risking getting attacked whilst on a ladder during a wasp attack could see you facing a life threatening situation
-Ask yourself. Do you have the right protective clothing, application equipment and training to safely treat and remove a wasp or hornet nest?
Why risk your personal safety, the health of your loved ones, or potential lawsuits against your business by attempting stab-in-the-dark Do-It-Yourself methods? When the sensible Salford wasp control solution is just an easy phone call away.
So forget the worry, hassle and headaches.  Call now and let our expertise Salford wasp nest removal treatment transform your stinging nightmare into happy and peaceful reality.
You can solve the problem quickly and permanently by calling our Professional Salford Wasp Removal Treatment
-Nests removed the same day you call
-100% Guaranteed work
-24 hour a day response
-Fixed rate Salford wasp nest removal treatment – No call out charge.
Get Total Peace of Mind
-All nests removed no matter how awkward their location
-We will inspect your home or shop and make sure it is totally proofed from wasp & hornet invasion
-Should you experience any further Salford wasp control problems we will remove them free of charge