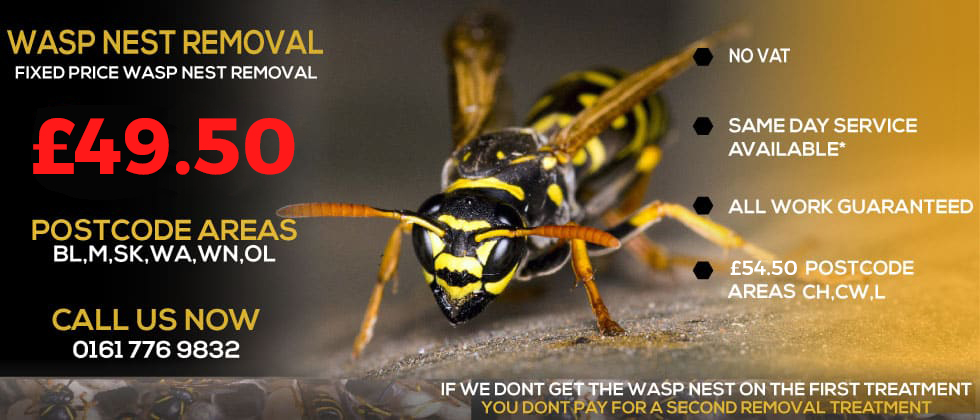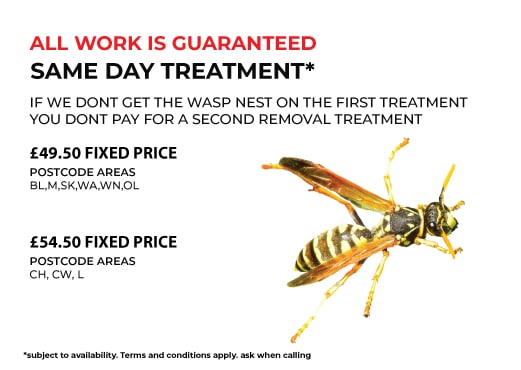 Need Help? Call Us On 0161 776 9832 For Expert Pest Control Advice On How To Identify Pest Infestations And Help Solve Your Pest Problem.
Sutton Weaver Wasp Nest Removal 
A Wasp infestation is one of the most challenging pest problems you can experience. The urge to get rid of a wasp nest in your home may tempt you to try a do-it-yourself procedure. However, wasps are known to be aggressive and attack fast when threatened. In addition, a wasp sting is painful. It can turn from painful to fatal if you are allergic to wasps. Because of this reason, it is advisable to let professionals with wasp control experience help you. It Is convenient in terms of time and a safe way to manage your wasp problem.
How To Identify A wasp Invasion
 Most invasions begin in Spring, with the queen and a handful of workers. The wasps mostly choose to build their Nests on roofs and walls. Construction starts with the nest taking a small ball-sized shape. With the warm summer weather, the nest shifts to a conical shape due to increased activity. A nest can grow up to 2 feet long and 30 centimetres. On Identification of such a structure, you should not risk yourself by attempting a DIY.
Sutton Weaver Wasp Nest Removal By Young`s Pest Control
 If you have a wasp problem within Sutton Weaver, let our Young`s Pest Control team in
Cheshire help you. Trying a DIY may not be the best choice because it can be difficult for someone to identify the type of wasp present. Cheshire county is known to be inhabited by the German Wasp and the Common Wasp. Our team of experts will identify the species present before choosing a suitable technique to get rid of the wasp nest.
Wasp and Hornets
 Hornets are the largest group of social wasps. Hornets can be distinguished from normal wasps by their large head and rounded abdomen. The distinct shape is responsible for the name.
Management Cost
 Wasp infestation can be cyclic from one Spring to another. Because of this, some people tend to have reservations about the wasp nest removal cost. However, at Young's
Pest Control, our wasp exterminator services are affordable and fixed at the same price. This wasp nest removal cost makes Young`s Pest Control an ideal partner in Hornet and Wasp Control. It has gone a long way in making us a leading player in Cheshire's Sutton Weaver Wasp Nest removal service providers.
Why Choose Us For Your Wasp Problem?
Reliability
 Our team of qualified and expert exterminators have the necessary experience in eliminating wasp nests. Once we are on the ground, we make sure a complement removal is performed and eliminate all chances of possible re-occurrence.
Safety
 Working with Young`s Pest Control experts ensures your security and the general security of your surrounding. Wasps are aggressive and attack whenever they feel threatened.
We value Discretion
 Young's Pest Control matches your demands if you are worried about your neighbours knowing you are struggling with wasps. Unfortunately, our vehicles do not have branded with company names making it hard for neighbours to tell the nature of the visit.
Saving Time
 Apart from being reliable, we also save time that otherwise ends up being on DIY treatments. It is not mandatory to be present, something that allows you to engage in other engaging activities.
Fast and Efficient Service
 Because of the experience, our team is capable of using minimum time in solving your wasp problem. Wasp nest removal will only take up to a day if the problem is massive.
Conclusion
 A wasp invasion is not something you should take lightly. Concerns of potential infestation need to be dealt with immediately. However, it is wise to know this does not
mean you should try a DIY containment. Wasps are very dangerous and attack at any attempt of provocation. A DYI may seem ideal and cost-effective. However, it puts you at risk as well as your loved ones. An adverse allergic reaction to a wasp sting may be fatal and can lead to death if medical help is not in time. For this reason, it is wise to seek help from an expert.
WA7