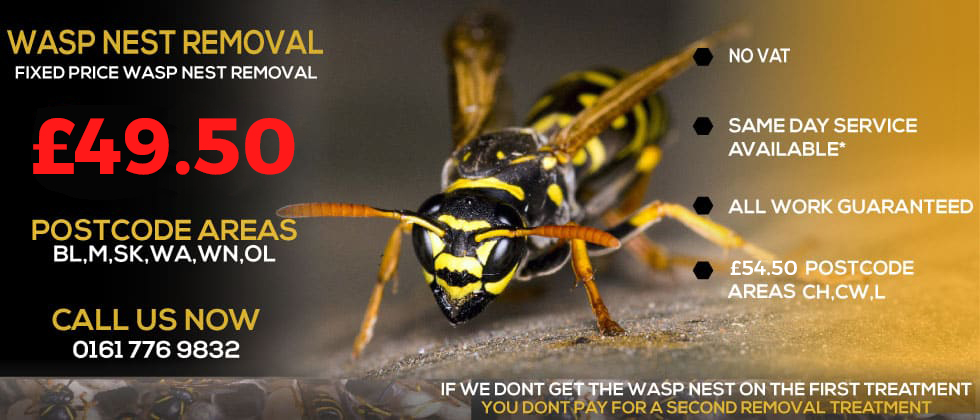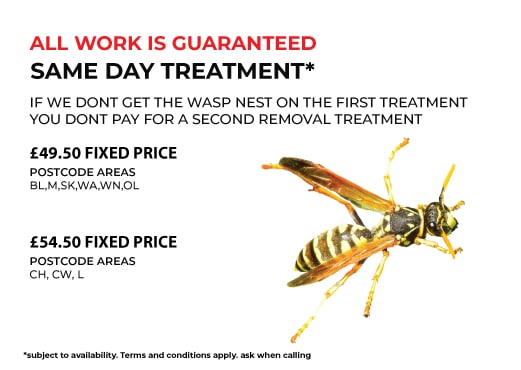 Need Help? Call Us On 0161 776 9832 For Expert Pest Control Advice On How To Identify Pest Infestations And Help Solve Your Pest Problem.
Henbury Wasp Nest Removal 
Wasps and Hornets are naturally defensive creatures; they will sting anything or anyone for even walking close to their nests. Get rid of the wasp nest in your home using a professional wasp controller because that is the safest way. Instead of avoiding your garden or specific areas in your home, have a hornet and wasp control experts handle the infestation for you. The stings are excruciating, but they can also carry the risk of infection. They normally hunt for small insects found in dirty places; that is why they can easily infect you with their sting.
Venom and unhealthy bacteria are reasons enough to call Henbury Wasp Nest Removal in case of a threat. However, if you have an active wasp infestation, a trap won't be enough to solve the issue. You will need all the help you can get and from experts. Waiting will only escalate the problem; having a wasp exterminator close by is your best chance of avoiding serious damages. If the wasp nest is treated by a professional, the process will only take a couple of hours before you are back to enjoying your house fully.                
How Much Does Wasp Nest Removal Cost?
The Wasp Nest Removal cost will differ from
one company to the next. If you want to get rid of wasp nest with the help of a professional, the first question is always how much the services will cost. As much as the prices differ, the best companies will provide you with a fixed price upfront. Next, you must visit the pest control company's website you wish to source their services and find out the price for the kind of infestation you are dealing with. If the prices are not published there, make the necessary inquiries.
It's important to find out the price before using their services because you will know if you can afford other services or not. Also, maybe they offer additional services you are interested in. hornet and wasp control services should not bankrupt; you ensure you find a trusted and reliable company within your budget. That way, you will know who to call in case of a pest emergency.
What to Look For In a Wasp Exterminator 
Experience is the number one thing you should look for. You will feel more at ease knowing the one you trust with your
safety has done it countless times before. Experience also comes with many other advantages. An experienced expert will give you advice and knowledge on what to do and what not to do in a wasp infestation. The Henbury Wasp Nest Removal expert will also handle the situation much faster to eradicate the wasps in the shortest time possible.
It would help if you also looked for availability; your exterminator should be available seven days a week. Wasps or hornets won't give you any notice before invading; you will barely have time to start finding a new pest control service. They should always be able to pick up the phone when you call and respond as fast as they can. If they aren't available for a certain period, they should communicate that so that you can look for backup when disaster strikes.
Look for a company that can handle all pests. It can be a wasp infestation today, but who knows what tomorrow will bring? You want an exterminator that can handle any infestation. Please go through the services they provide; sometimes, the company only specializes in handling one pest infestation. That may be great because it means they can handle it expertly, but exterminators with various specializations are always better.
They should also be discreet. If you don't want to announce to the whole neighbourhood that you have an infestation, the company should respect your wishes and privacy. Some pest control companies used unmarked cars to avoid publicizing your issues. You should always be able to get what you want from the service providers you choose. If it's discretion you want, the exterminators should find a way to provide it. Infestations may lower your property value significantly, especially when everyone around you is talking about it.
Conclusion 
Pest management is a frustrating battle for
anyone to fight alone. Having a reliable pest control service will ease a lot of the frustrations by handling everything for you. However, finding the right one can be a hard task, but it will be much easier when you know what to look for.
SK10
SK11