Pest Control for Pubs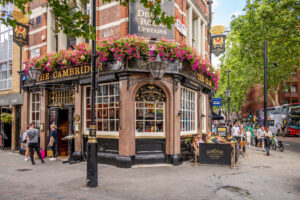 Every pub owner's nightmare is the knowledge of vermin leaking out to the press or other media, but it is still widespread. It affects everyone who earns their business from the pub, whether landlord or landlady, cook, waiter or whoever. So pest control for pubs must be a top priority, or you won't have a public house for very long.
Pest Control & Food
After all, if you run a business and primarily work around food, you need to have adequate pest controls. Although it seems obvious why pest control for pubs is necessary, many of the fixtures and fixtures date back centuries and provide and damp and dark area for various insects and rodents to set up homes. The most vital areas for infestations tend to be in the cellars and the attics, but there may be spare rooms, cupboards, outbuildings or even places in the main pub itself where vermin might be found. Although the kitchen is specifically a dangerous zone, the infestation may come from anywhere in the pub.
Reputation at risk
Your reputation can be seriously damaged as a food establishment if evidence of a vermin problem is made public. Therefore, it is vital that a pest controller makes regular visits and responds rapidly to your situation. That is, they give a 24-hour service, seven days a week.
With a busy public or pub restaurant, closure affects sales. So it is essential for the problem as fixed as soon as possible by a professional and you regain your food hygiene standards. So 24-hour service, call-up day or night ensures the smooth running of the premises and makes peace of mind so much easier for you. Many pest controllers have an online analysis tool to understand better what action is being taken and how standards are being maintained. It is vital for the state of your business that you choose a pest controller with an aftercare service. You don't want the problem to flare up again and have no one notice.
It is vital to have a pest controller who gives you advice that is up-to-date and relevant to your circumstances. In addition, any treatment must comply with food safety regulations and COSHH regulations-Control of Substances Hazardous to Health.
Please ask us for more details about the correct service for you and our costs. Our contact details may be found on the website.