Rats Don't Care That It's Christmas!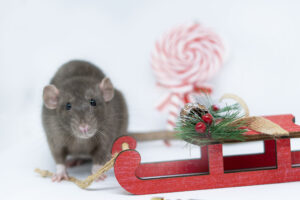 This Christmas season is marked with festivities and celebrations. However, it is paramount to realize that pests do not care that it is Christmas and will still damage your stuff.
We Offer 24 hours Service.
Our company offers the clock pest control service that ensures professional solutions to your residential, agricultural and commercial pest problems. Just a phone call away, we are available seven days a week, twenty-four hours a day.
Why do you need Young's Pest Control Services?
We have a team of highly trained professionals who have been well equipped with the necessary skills and experience that allow the safe removal of pests in your homes and commercial locations. Our workers are trained to locate and remove the entire infestation and conduct themselves with the utmost professionalism. In addition to the experience we have, Young's Pest Control is also fully insured. This ensures that we use products, methods and solutions that are safe for children and pets. We also offer emergency services with a response time of less than an hour in urgent situations. The residential, commercial and agricultural services we offer keep us on our toes, therefore, guaranteeing you satisfaction from our extermination services.
Pests
Pests can be a massive nuisance to homeowners and families. Rats, mice, woodworms, beetles and moths are among the few pests that can generate huge bills and expensive insurance premiums for homeowners. Infestations by some of these pests can blight the lives of families and prove highly costly to homeowners to the extent of rendering their homes unsellable. Most pests cause much harm to homes and buildings, not to mention agricultural produce. The damage caused may include:
• Chewing through timber, pipes, brickwork and wiring
• Eating and wasting food and agricultural produce
• Rats and mice are capable of spreading nasty illnesses and diseases
• Ruin an organization's reputation in commercial places and cause embarrassment at residential homes in case of visitors.
These are just some of the few reasons why you need to hire Young's Pest Control before the pests cause severe harm and destruction to your homes. We offer services capable of dealing with such infestations while ensuring minimal risk to ourselves and others in the vicinity.
Whether the problem is at your place of business, home, farm or garden, you can trust us to control the pests' have caused. We offer services such as:
• Bed bug control
• Bumblebee nest removal
• Squirrel control and removal
• Woodworm removal
• Flea infestation
• Swarm collection and honey bee removal
• Wasp control and removal
• Mice control and rat infestation removal
Protect Your Home
We work with every client to develop a custom plan for every situation and ensure minimal damage to your property. Pests don't come once a year, so we make regular visits to your home to inspect and ensure no infestations by pests, especially rats that are notorious for eating food.
Young's Pest Control is the strongest in the business. It guarantees maximum value for your money and a happy pest-free home.