Mice Don't Care its Christmas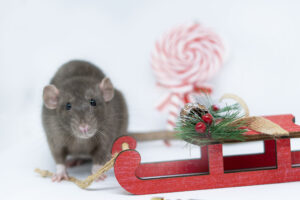 Christmas is a day to celebrate with friends and family. It is an incredible experience if all Christmas events are held in nice and clean environments. Avoid cutting short the fun and laughter with a crisis of mice infestation. Mice can contact food stored in a house with bacteria and viruses. Such contaminated food can cause severe illnesses to persons if consumed. As a result, pest control measures must be carefully performed to avoid hygiene contamination.
Checking Signs of Infestation
There are several signs that a person can notice to recognise a house infestation. Such signs include:
Mouse droppings

Rodents tracks

Rodent sightings

Gnawed furniture

Gnawed plastics

A musky smell in the house
Avoid do-it-yourself remedies for pests control due to their low success rates. You can also risk contracting acute diseases that are caused by a rodent. There are nine principal diseases directly transmitted by a mouse. The disorders are Hantavirus Pulmonary Syndrome, Haemorrhagic Fever, Lassa Fever, Leptospirosis, Omsk Haemorrhagic Fever, Plaque, Rat-bite fever, Salmonellosis and Tularaemia.
 Youngs Pest Control Professional Services
If you have a mice infestation problem, were are here to offer you a permanent solution. Our professional services are available all year round. All our staffs are infestation control professionals. They possess vast knowledge and experience in handling and eradicating different pests in a home. We guarantee high-quality services at the most competitive rates in the market. We use highly effective pesticides with a fast response of 60-90 minutes.
Youngs Pest Control is fully licensed and insured in the pest control field. We strive to place all our clientele needs first and guarantee complete satisfaction. We offer specialised pest extermination services to both domestic and commercial clients. Each year, rodents damage house furniture, plastics, clothes and other items in the house. We are the best in the market to avert such damage to all your items this Christmas.
Pros of Youngs Pest Control
Instant response to all your rodent problems
Fast pesticides action rates.
Best rates in the market.
Highly qualified rodent control exterminators.
We are obtainable 24/7 to solve all your pest problems.
Customised services for domestic and commercial clients.