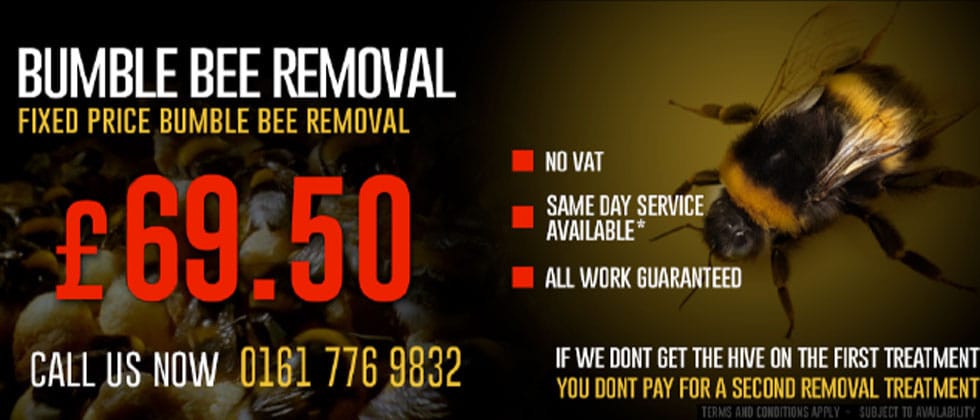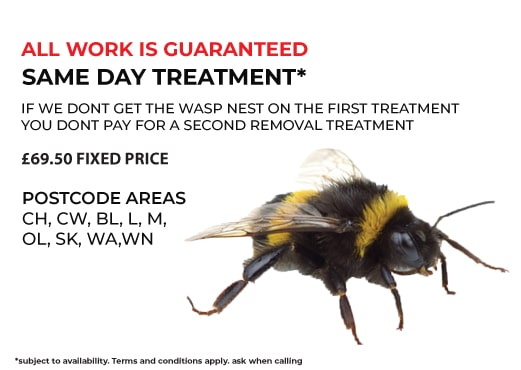 Need Help? Call us on 0161 776 9832 or drop us an email for expert pest control advice on how to identify pest infestations and help solve your problem.
St Helens BumbleBee Control Services
Whether bumblebees have taken up residence in the shed, attic, dryer vent or underground in the garden, they can be a nuisance and pose a serious health risk. St Helen's bumblebee control is the only way to be sure that the problem is taken care of, but this can be risky. In order to avoid stings or injuries, accidental chemical contamination and other risks, St Helen's bumblebee control should be done by professionals such as the experts at Young's Pest Control.
Tree BumbleBees

Tree BumbleBee
Britain has many different species of bumblebee, but the one most likely to cause problems for people is the tree bumblebee. This species is native to Europe and fairly new to the UK but is responsible for many St Helens bumblebee removal jobs.
Tree bumblebees, as their name implies, will nest in trees but also in houses, sheds and other buildings. Home and business owners sometimes notice them because of a strange buzzing sound coming from somewhere inside the building, or because of a clogged vent.
When dealing with tree bumblebees, calling in professional help is even more important because this species is more aggressive than other bees, and it is very easy to trigger a swarm by disturbing the nest.
St Helens BumbleBee Control

Because bees are important for the environment, if it is possible to relocate the nest to a safe area, this will be done. This can be a relatively easy task for someone with beekeeping or pest control knowledge but is hazardous for the average person to attempt. Knowing how to approach, handle and transport the hive safely keeps experts safe.
BumbleBee
If the nest cannot be moved, chemical bee control treatments need to be used. Here too experts have the training and experience that keeps them safe - certification in the safe use of chemicals. This gives them access to better pest control products not available to the public and lets them use these products safely.
Experts are also experienced working from heights and in confined areas. While this might seem simple enough, picturing trying to escape a swarm of angry bees while stuck in an attic crawlspace or up a tree shows how risky these scenarios can be.
Handling bees always carry the risk of being stung, and for some, there is the added risk of allergic reactions. Play it safe and leave the job to the experts at Young's Pest control.