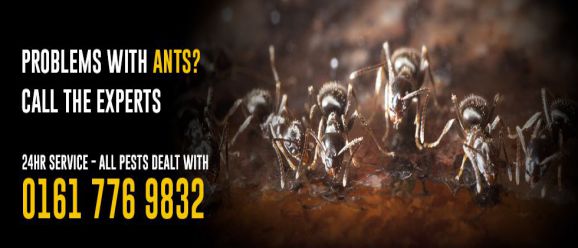 Need Help? Call us on 0161 776 9832 or drop us an email for expert pest control advice on how to identify pest infestations and help solve your problem.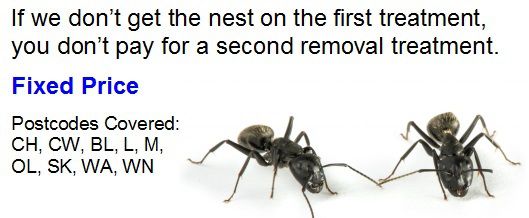 Prescot Ant Infestation Removal
Insects with large appetites
There is a problem that can occur at any time of year for home or hotel owners. An ant infestation in the house can be a major nuisance and be the cause of so much stress. Once the colony come inside your home to look for food and to keep building their nest this is when the real trouble starts. Names like Pharaoh, Carpenter, and Garden are just some of the 8000 species of the ant infestation that could occur at any time. The necessary action you must take is to call Young's Pest Control who can guide you and perform a Prescot ant infestation removal.
Indoor
A flying ant infestation indoors would mean you should be cautious around your food, or furniture

Key areas to search include small cracks, moist wooded furniture, under carpets, under flood-boards, and anywhere food remains could be food so most likely the kitchen

Each ant has a different passion for Carpenter it is wood and they leave their traces with holes in your furniture, sadly if left ignored the furniture can be destroyed beyond repair.
Never leave an ant infestation ignored as the problem will just continue to grow and make it harder to perform any Prescot ant infestation removal treatment in the future.
Outdoor
Garden ants are a huge threat for all seasons, if their food supply is cut off then the colony can simply move on to the nearest house. This type is separated into workers and queens, both can leave very long periods and breed at rapid rates. Due to the sensitivity of a garden that contains flowers, plants and crops it is more important than ever to only let trained professionals perform any Prescot ant infestation removal treatment. Otherwise, you are just spraying generic stuff onto your garden that could do more harm than good.
The ant control team
A flying ant infestation can build a colony of thousands, this number keeps increasing as long as they have access to their food. Due to the diversity of nests and species of these insects, nobody can truly know what equipment will work other than experts in this field. It is due to that reason that an ant infestation in the house should instantly be reported to the team and a service ordered for a Prescot ant infestation removal as soon as possible. Otherwise, you will be left with a damaged house from hungry pests.