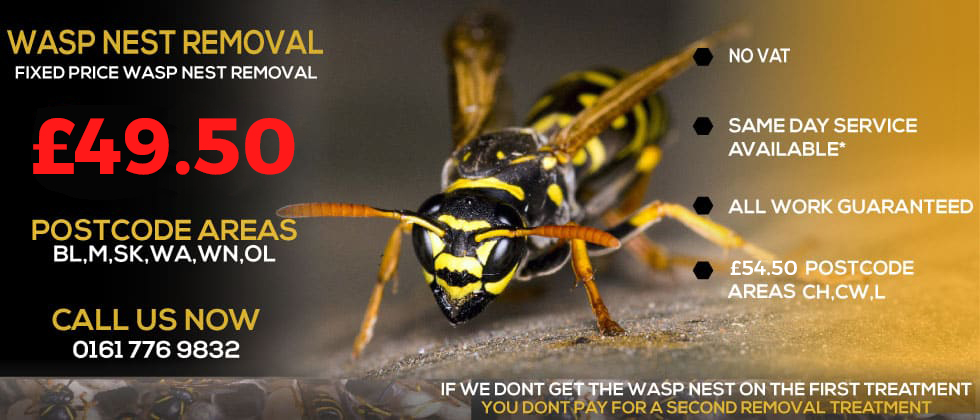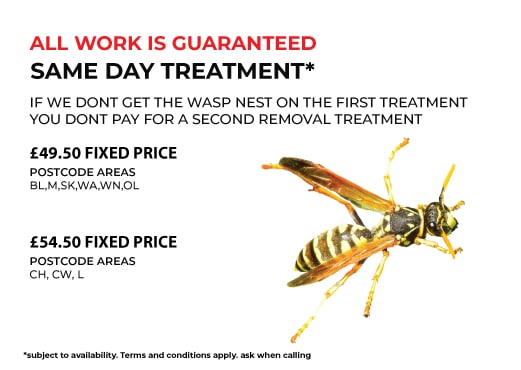 Need Help? Call Us On 0161 776 9832 For Expert Pest Control Advice On How To Identify Pest Infestations And Help Solve Your Pest Problem.
Page Moss Wasp Nest Removal
At Young's Pest Control, we take pride in providing our clients with the best Page Moss Wasp Nest Removal services. Unfortunately, pest invasion is among the significant challenges affecting many commercial and residential institutions in Page Moss. If you are experiencing pest challenges, we highly advise you to hire our highly trained professionals to help fight the pests before they cause any more health risks and property damage.
Negative effects of pests
The moment pests invade your home. It can sometimes be hard to keep them under control. Allowing pests to run freely in your residence or commercial property can result in unending losses. Some of these losses might be related to health or property. Below are some of the adverse effects of pests.
Allergies: Some pests may result in people having allergies. Pests such as wasps are disliked because of their nasty stings. People with sensitive skin conditions develop allergies when stung with wasps. The worst-case scenario can lead to death. When hornets detect any form of threats around their nests, they get aggressive and can give people uncomfortable stings. Although hornet stings might not cause long-term damage, the pain can get very intense in people suffering from allergies to their venom.
Why you should hire our professional services
We strongly advise you not to try and deal with pests on your own. If your hire the services of our professionals, you will surely benefit a lot. Some of these benefits include;
Reduces health risks: We boast of highly trained officials who have vast experience when it comes to dealing with pests. They are experienced in killing pests and handling poisonous insecticides while killing pests. However, you must hire our services and avoid taking insecticides independently, resulting in health hazards and significant accidents.
Reduces allergies: When bitten with some pests, the bites can result in itching and allergies. You can avoid this discomfort when you hire our services. In most cases, itches and allergies are the milder repercussions to deal with when being stung. Don't hesitate to call us when you see these insects in your home.
Better sleep: When you have a night of healthy sleep, it will result in good health. Having creepy insects such as wasps fly around in your home will lead to uncomfortable stings. Once our team of highly trained professionals takes care of these pests, you will enjoy nights of good sleep. In case you have long, uncomfortable nights, our professionals are a call away.
Keeps diseases away: Most of the pests that invade your home bring about conditions that can transmit easily to humans. Once our team of professionals takes care of your wasp and hornets problem, you can be assured of not having to deal with wasps and hornets anymore.
Services that we offer
We offer several pest control services to our customers. Such as;
Wasp Nest Removal (Wasp Control, Wasp Removals): If you have a wasp problem, call our wasp exterminator to take care of your pest problem. Our wasp exterminator is highly trained and experienced in dealing with wasps, as they will help you get rid of a wasp nest. If you don't get rid of the wasp nest early, the problem will likely get out of control. Moreover, our wasp nest removal cost is pocket-friendly compared to other pest companies' wasp nest removal costs.
Hornet and Wasp Control: It is crucial to carry out hornet and wasp control in your home because it will come in handy in helping you to deal with pest challenges in and around your home. The best way of coping with hornets and wasps is by hiring our pest control services.
Why hire us?
In providing pest control services, we guarantee the following:
24-hour response
Free quotations
Professional advise
The best customer support
L14