Need Help? Call Us On 0161 776 9832 For Expert Pest Control Advice On How To Identify Pest Infestations And Help Solve Your Pest Problem.
Newton-Le-Willows Grey Squirrel Control
Grey squirrels have become a nuisance in many areas in recent years, ever since their introduction to the country. As a non-native species, their numbers have rapidly grown because they have very little competition for food. As a result of the increased grey squirrel population, there has also been an increase in the number of people requiring squirrel removal. Grey squirrels are frequently inhabiting attics and lofts, something which most people are unaware of. The presence of grey squirrels in a building is often mistaken for mice or rats, as the signs of scratching sounds and droppings are very similar.
Problem Pests
Grey squirrels have decimated the native red squirrel population. Their larger size and more aggressive nature mean that they can quite easily take control of food sources and suitable nesting areas, ousting the timider red squirrels from their natural habitat. Grey squirrels have been known to bite whenever they feel threatened. They often destroy bird feeders whilst attempting to take birdseed and will eat newly planted seeds. They are even capable of destroying young trees by stripping the bark to build their dreys. Newton-Le-Willows grey squirrel control will help alleviate all of these issues.
Avoidance
If you are concerned about problems with grey squirrels, you can take steps to help avoid them becoming an issue in the first place. First, we recommend squirrel-proofing your property by covering any holes with a metal wire mesh which the pests will be unable to chew through. Squirrels are creatures of habit, so keeping them out of the property in the first place is the best way to avoid any Newton-Le-Willows grey squirrel control issues further down the line.
Our Solution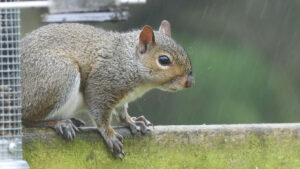 Young's Pest Control offers a solution to this problem with a humane Newton-Le-Willows grey squirrel control service. Squirrel removal requires a specific approach, which is different from removing other pests, as they are not generally tempted by foods used in, for example, rodent traps. Squirrels are a unique creatures. Hence a unique Newton-Le-Willows grey squirrel control process is needed. We can assist with all of your squirrel removal and prevention needs. If you feel that you may have a problem with grey squirrels, other rodents or insects, please don't hesitate to contact Young's Pest Control and find out how we can make your home your home once again.