Need Help? Call Us On 0161 776 9832 For Expert Pest Control Advice On How To Identify Pest Infestations And Help Solve Your Pest Problem.
Expert Newton-Le-Willows Cockroach Control Services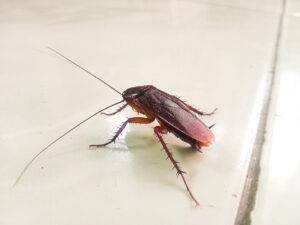 Cockroaches are unfortunately a widespread pest problem in the UK. Once established, a cockroach infestation can also be tough to remove. As you will see below cockroaches, have several traits that make them extremely difficult to eliminate using household cockroach treatment pesticides. The best solution to entirely eradicating a cockroach population is contacting a professional Newton-Le-Willows cockroach control service like Young's Pest Control.
Rapid Breeding Of Cockroaches
Cockroaches can breed at an incredibly rapid rate. While an adult cockroach may live only a hindered days, they can produce as many as a million offspring over that short time. Therefore, even a tiny cockroach problem can quickly spiral out of control if the correct cockroach treatment is not applied.
Preventing Health Problems With Cockroach Pest Control
Cockroaches aren't just disturbing to look at. They can also damage the health of the occupants of your home. Cockroaches and their droppings can lead to allergic reactions in humans. Cockroaches can also transport microbes to their body. This can make them a transmission point for disease in otherwise sterile environments. One thing to be aware of if you have found cockroaches in your kitchen or around any other food sources is that they can contaminate any food source they have come into contact with.
Preventing Cockroach Problems
One of the best ways to avoid a cockroach infestation is to make sure that all waste and food are sealed correctly and inaccessible. If there are any leaks, including dripping taps, then these should be repaired as cockroaches are often attracted by water to the property. It is also good to seal entry points to the property, such as the pipes, wiring, windows and doors.
Reliable And Fast Newton-Le-Willows Cockroach Control
Cockroaches can survive for extended periods without access to food. For example, cockroaches can live off a single scrap of food for months if necessary. Some types of cockroaches can live without access to food at all for months at a time.
Cockroaches are a problem that can't be ignored. Any signs of cockroaches on your property need to be treated seriously. Contact Young's Pest Control for reliable Newton-Le-Willows cockroach control advice as soon as possible if you have found cockroaches inside or around your home.