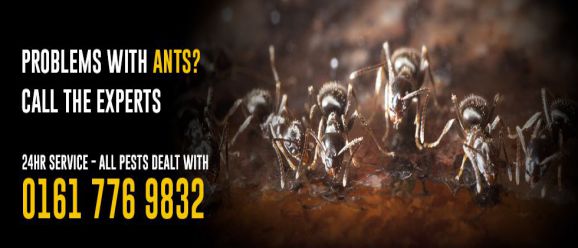 Need Help? Call us on 0161 776 9832 or drop us an email for expert pest control advice on how to identify pest infestations and help solve your problem.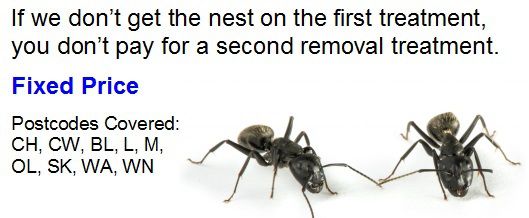 Professional Newton-Le-Willows Ant Infestation Removal
If you have an ant infestation in your home or garden, then you will soon find that these ants become a nuisance. Large numbers of ants will find their way into the kitchen to look for food and potentially contaminate it. The two most common species of ants found in homes are Pharoah's Ant and Black Garden Ant. It is also common in summer to get a flying ant infestation. All of these species are considered to be pests. If you are experiencing an ant infestation in the house, you should call a professional Newton-Le-Willows ant infestation removal service immediately.
Reasons Why You Should Use A Professional Ant Control Service
Professionals will identify what type of nest that ants have built and will know the best method for destroying this nest.

A professional Newton-Le-Willows ant infestation removal service will be able to select the most effective insecticide to use for your particular circumstances.

A professional service will include an initial assessment to determine the scale of the problem and any follow-up visits to ensure the infestation does not reoccur.

A professional will advise you about what steps you can take to help prevent another occurrence of the infestation and can also put their measures in place to stop this from happening.
Using Young's Ant Control Service

If you attempt to treat an ant infestation in the house yourself, you may find that you cannot eradicate the problem. This is because the nest will have to be destroyed, and without professional tools and knowledge, you may not destroy every component of the nest which means that the ant infestation will return. Therefore it is essential to seek the help of a professional as soon as the ant infestation is discovered.
Young's Pest Control can help you deal with any problem caused by ants, including a flying ant infestation. We will respond to your call as soon as possible and visit your property to assess the situation. Our no-obligation quote will provide you with a very reasonable fixed price for dealing with an infestation of ants. Contact us today to find out how we can help you deal with your pest problem efficiently and cost-effectively.