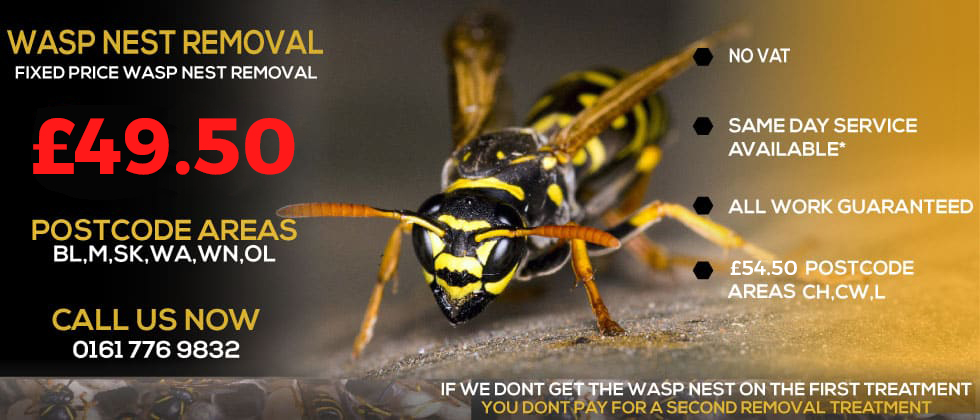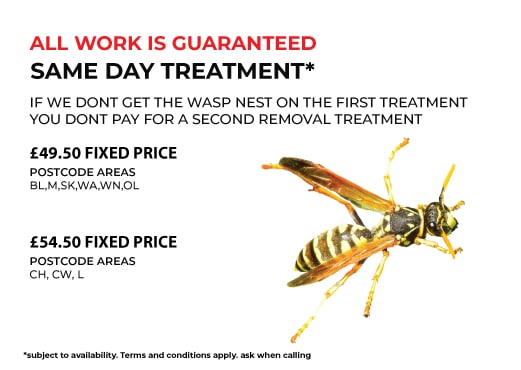 Need Help? Call us on 0161 776 9832 or drop us an email for expert pest control advice on how to identify pest infestations and help solve your problem.
Liverpool Wasp Nest Removal Treatment
Wasps can be a real nuisance in businesses and domestic homes, particularly if you find a wasp nest has been built in or around your building. Although they are not considered generally dangerous in small numbers, wasps can be an annoyance. They can cause a significant amount of distress, particularly for people who suffer severe allergic reactions to their stings. Children are particularly at risk of being stung, so a complete system of pest control must be applied to ensure a safer environment.
Wasp Dangers
It is essential to seek professional expertise when dealing with an infestation, to first identify the species of wasp and the levels of infestation within a building. Wasps can become aggressive if you approach their nest, as they are motivated by an instinct to protect the nest and the queens. In addition, nests are commonly built-in walls and beneath building structures, so if you often find wasps inside a building, you may find that a nest is the potential root of the problem.
Wasp and hornet nests can grow to a large size and contain thousands of workers and several queens. If an infestation is not dealt with quickly, the problem will only worsen. If threatened, wasps will attack and sting humans. Therefore we do not recommend that you attempt to remove a nest without professional help.
Hornet and Wasp Removal
At Young's Pest Control, we offer a complete professional service for removing wasps, hornets, and nests, ensuring a continual reproductive cycle is eliminated. Our Liverpool wasp nest removal treatment is fast and effective and covers commercial and residential properties. Our personalised service is friendly and cost-effective, offering the best value hornet and wasp control in your local area.
Our service:
•
Competitive prices
• Safe and effective wasp control in compliance with regulations
• Elimination of wasp infestations and Liverpool wasp nest removal treatment
• Same day service
• Clean up, removal and prevention
• Long term monitoring.
For complete peace of mind, give us a call for an immediate response. We are available to help 24 hours a day, seven days a week.