Need Help? Call Us On 0161 776 9832 For Expert Pest Control Advice On How To Identify Pest Infestations And Help Solve Your Pest Problem.
Professional Liverpool Grey Squirrel Control
Grey Squirrels have been a problem since the 1970s since their introduction to Britain. Since then, they have spread throughout the UK and have overpopulated the red squirrel throughout most of England and Wales.
The infestation of the Grey Squirrels is causing significant problems for foresters, wildlife environments, gamekeepers, and farmers due to the severe damage they cause to the trees, wood and timber. In addition, the damage caused to hoppers, feeding bins and water pipes is alarmingly costly.
Grey Squirrels are primarily responsible for the declined red squirrel population in the UK. However, due to the grey squirrels' poxvirus, this has become deadly to the red squirrel population. This severe virus, which does not affect the grey squirrel, is increasingly creating awareness of the red squirrel extinction.
So how do we control this Grey Squirrel Problem?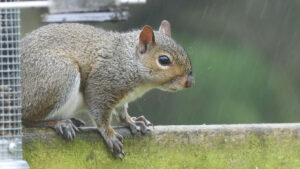 Squirrels are usually classified as a pest species due to their habits of living in houses. Do you have any of the following Squirrels?
• living in the attic
• living in the chimney
• chewing on woodwork
• stealing birdseed
• inside your home
For these reasons, many people wish to have this nuisance animal trapped and removed, which is where we come in!
Grey Squirrel Control

Our Liverpool grey squirrel control is not to be associated with cruelty or inhumane manner. On the contrary, we ensure the process is carried out with safety and professionalism. Our qualified and trained staff are fully equipped to carry through with your pest removal needs from your property and will advise you on the way forward to prevent further pest problems.
We always ensure whatever methods we use are carried out humanely and within the law.
Squirrel Removal

For squirrel removal, we suggest trapping removal, which is the best practice for this pest. If there is a squirrel problem in your attic, we will need to open holes and vulnerable areas where the animal may be entering and seal them. The squirrels can then be trapped and removed from your house/attic.
Squirrel Pest Control


Along with our Liverpool grey squirrel control and treatment services, we also can provide quite several other services, which can be agreed upon upon upon appointment.
We can arrange a consultation with you at our offices and come to your home if there is a problem with small creatures invading your living space. After doing a site survey of the problem, we will arrange for the certified surveyors to visit your premises and assess the situation. Finally, we will discuss what services are required and rid you of your pest problems.
Get rid of your Grey Squirrel Problem today!