Need Help? Call Us On 0161 776 9832 For Expert Pest Control Advice On How To Identify Pest Infestations And Help Solve Your Pest Problem.
Liverpool Bed Bug Treatment Specialists
Signs of Bed Bugs

Bed bugs are often tough to identify, and it can often be problematic to highlight a problem. Bed bugs are often found in microscopic cracks and faults. Bed bugs bite many people, and this is usually an indication that an infestation is arising.
Identifying the Signs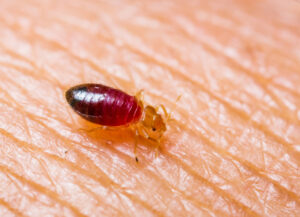 Nevertheless, it is still difficult to notice what the bites are if they occur. Therefore, it is essential to look for the following signs:
- Thick, dark black stains are located on the mattress and nearby areas.
- Bedbugs emanate a disgusting sticky, soft odour.
- Tiny dark spots that would indicate bedbug faeces.
- Live insects that are evident within the dead; usually measure between 4mm-5mm and can be visible from shed skin.
Finding Bed Bugs

The bed is the first prominent place to check, but bed bugs often inhabit furniture and other furnishings. You should also check bed frames, headboards, in between mattresses, on carpets, between the floorboards and inside electrical sockets. Bed bugs can be found anywhere in a bedroom, and infestations should be taken seriously. Here at Young's Pest control, we offer professional bed bug control and Liverpool bed bug treatment if the problem becomes unmanageable.
Bed bugs are often located in bedrooms because they require access to blood within the night. Essentially, bed bugs are attracted and enticed by human body heat and carbon dioxide when we exhale.
The Spread of Bed Bugs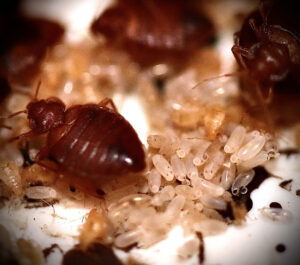 Bed bugs can be spread by simply carrying around clothing that carries an infestation. The bed bugs will then inevitably move onto other furniture or clothing and begin an infestation elsewhere. Therefore, it is imperative that if a bed bug problem arises, you contact the experts. In addition, effective Liverpool bed bug treatment is essential if the problem is to be eradicated.
What happens if a bed bug infestation has occurred?

We will conduct an initial survey to understand the extent of the infestation. After the initial study, we will guide you through the services available. We offer tailored Liverpool bed bug treatment, bed bug removal and bed bug fumigation. Whatever the problem is, we ensure that we will solve the problem promptly and professionally.
If you have a problem requiring immediate bed bug removal or bed bug fumigation, do not hesitate to contact us. Furthermore, we also offer Endotherm Heat Treatment which extinguishes the problem quickly.