Need Help? Call Us On 0161 776 9832 For Expert Pest Control Advice On How To Identify Pest Infestations And Help Solve Your Pest Problem.
Huyton-With-Roby Grey Squirrel Control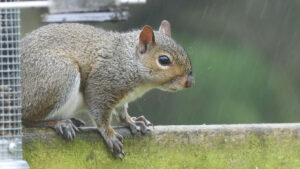 You see them in the park, climbing up trees, scampering across the grass, gathering acorns as they run, and you think that butter wouldn't melt. The grey squirrel looks far too cute and cuddly to be a household pest possibly. Still, in recent years, they have risen to prominence. Their increase in numbers, combined with the dwindling supply of trees, has caused a rather significant problem in several households across the UK, and the number is growing. Huyton-With-Roby grey squirrel control is also tough to job because they are creatures of habit, and once they have found the cosy new home that is your attic, garage or basement, they will not want to leave. This is why you need to call in our professional Huyton-With-Roby grey squirrel control team, like Young's pest control, who are based around the area of Manchester.
Why Do Grey Squirrels Need To Be Removed?
For some people, having a pet squirrel may seem like a great idea in theory. Still, the damages that they can potentially cause to your home can be very costly to fix and even life-threatening, so the quicker you discover the problem. The faster you call our professional Huyton-With-Roby grey squirrel control team, like Young's, the quicker the squirrel removal process can start, and this can only be a good thing.
Huyton-With-Roby grey squirrel control is needed mainly to save the person who has the infestation money. Squirrels can cause a lot of damage to your home, and this can include things like gnawing away personal possessions, which may be costly to repair and may need to be replaced in many cases. In addition, squirrels have ridiculously sharp teeth, which means they can pretty much chew through any household item imaginable.
A more severe problem comes when grey squirrels decide to bite through wires to appliances and even the mains electricity. This can cause massive problems, the devices will need to be replaced or repaired right away, which is costly, and an electrician may need to be called to rewire your house in some cases. This can all be very costly but more severe than that. In addition, the penetration of the wires is a massive fire hazard. Therefore, you are effectively putting yourself and your family at risk by not calling in any professional squirrel removal services.
Why Call A Professional?
A professional needs to be called to ensure that 100% of the squirrels in your property are eliminated as this is very hard to do by yourself. An experienced team will also put into place measures that make your home more squirrel proof and mean there is less chance of the problem happening again.