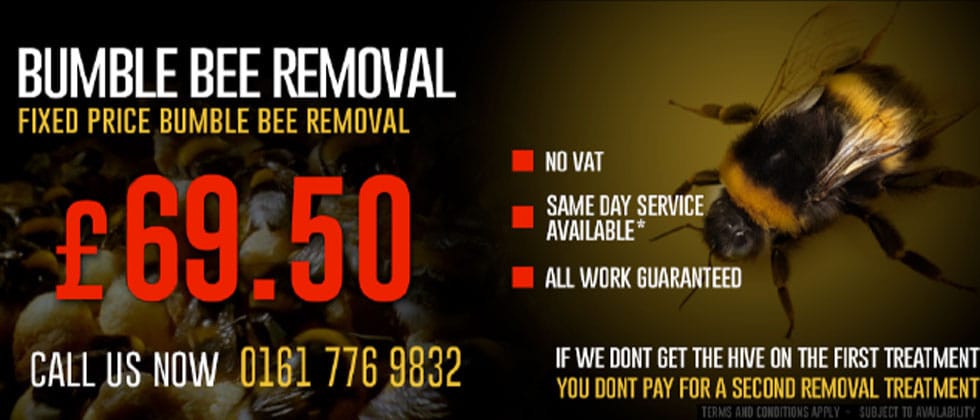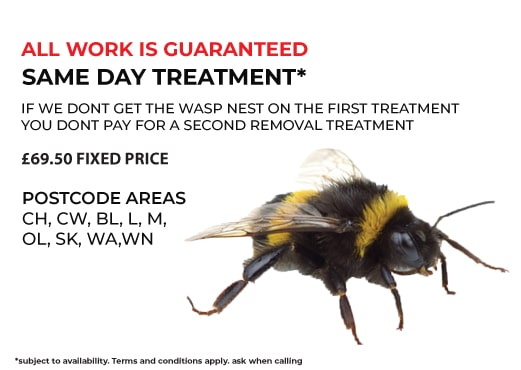 Need Help? Call us on 0161 776 9832 or drop us an email for expert pest control advice on how to identify pest infestations and help solve your problem.
Haydock BumbleBee Control Treatment: Things to Keep in Mind
It is spring, and the flowers have started to bloom. You are captivated by the beautiful scents and lovely petals. However, you are not the only one, as bumblebees are also buzzing around. 
Bumblebee characteristics
What differentiates bumblebees from other types of bees is that they are larger and have a fluffy appearance. In addition, the bees are social and live in colonies.
Haydock Bumblebee control
Bumblebees like to make their nests in abandoned insect/animal holes and grass tussocks. Sometimes, they can make a nest in your garden shed, which can be very inconvenient. There are also tree bumblebees that make their nests in tree holes. Tree bumblebees have black abdomens with a gingerly brown thorax and a blackhead. However, the one thing that differentiates these bumblebees from other bees is their whitetail. Since you do not have the knowledge or skills, you should only hire professionals like Young's Pest Control to get rid of the insects.
Reasons to hire professionals for bumblebee removal
Professionalism
There are several reasons why you should think of hiring Haydock bumblebee control experts like Young's pest control. For starters, you can rest assured that they will get rid of the problem not only safely but effectively. Unlike honey bees, bumblebees are not aggressive. However, they are likely to sting if their nest is disturbed. You should hire professionals because they understand bees and know how to handle them. Furthermore, they have the necessary clothing and equipment to get rid of the bees safely.
Knowledgeable
Another reason to hire experts is that they know which methods and treatments work best. For example, if you suspect there is a bumblebee nest in your garden, the first thing you should do is call the Haydock bumblebee nest removal experts. They will observe the bees to see if their more than one nest. Subsequently, they will discuss with you the Haydock bumblebee control options.
It saves time
Hiring experts to get rid of bumblebees will also help you save time. Think of the countless time you will spend looking for solutions that might even not work. If you do not know how to differentiate tree bumblebees from other types of bees, you will have a hard time formulating an effective solution. For this reason, you should hire a company that offers Haydock bumblebee control services like Young's Pest Control. Apart from Haydock bumblebee nest removal, the company can also help you eliminate masonry, mortar and honey bees and any other pesky pests.