Need Help? Call Us On 0161 776 9832 For Expert Pest Control Advice On How To Identify Pest Infestations And Help Solve Your Pest Problem.
Professional Formby Woodworm Treatment
Why Choose Us?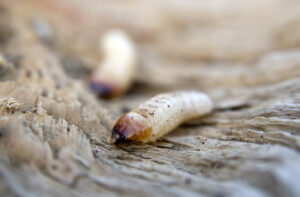 A severe woodworm infestation can appear abruptly and without warning. If it comes at the wrong time, these kinds of pest problems can tempt some people into investing in cheap, do it yourself products. However, the majority of professionals in the pest control industry strongly discourage this, as tackling a woodworm infestation using these methods can often be a risky gamble you may not be able to afford. Past research into DIY pest removal products has consistently shown that many of these more affordable sprays and insecticide agents contain insufficient amounts of ingredients like insecticide and pesticide. For a prompt application of professional Formby woodworm treatment, it's always better to contact experienced, reliable exterminators, not only to apply an effective Formby woodworm removal treatment spray the first time around but also to take steps to protect your property from infestations in the future.
About Woodworm
Although there are many varied species of this particular nuisance, the most common type to the UK is the Common Furniture Beetle. In spite of its name, this species has actually been proven more likely to eat into construction timbers than tables and chairs. Again, contrary to their general name, woodworm is in fact beetles. The adult Common Furniture beetle usually grows to between 3 and 5 millimetres and can be identified by a dull, stone-like colour, as well as the unique shape of its thorax, which looks almost like a baggy monk's hood over the insect's head. Signs indicating that you may need Formby woodworm treatment on your furniture include small, rounded holes in timber surfaces, (usually found in a small, concentrated area of the property) and piles of bore dust left behind by the woodworm's burrowing, which feel rough and "gritty" when rubbed between the fingers.
In most cases, this species can be dealt with by replacing timber in the affected area with wood treated with a repellent. Other species common to the UK include the House Longhorn Beetle, the Deathwatch Beetle, and the Powderpost Beetle. While some varieties can be treated using the same method for a Common Furniture Beetle, infestations of Longhorn or Deathwatch may require more intense treatment, due to a stronger biological defence against insecticides.
Our Services
With our extensive knowledge and experience in this field, we at Young's Pest Control understand how inconvenient and daunting Formby woodworm treatment can seem. Should you choose us, our professional and customer-friendly team will come to the property at your convenience, and promptly assess the infestation, using a rich background of pest control knowledge to determine which kind of Formby woodworm removal treatment is required. Our customers have told us time and time again how irritating their infestations can be, so in recent years we have started priding ourselves on the speed with which we apply Formby woodworm treatment spray. Once the scale and species of your pest problem have been identified, our trained team will swiftly eradicate it using their keen initiative and up to date equipment, and all the while will be happy to answer any questions you may have about the process.