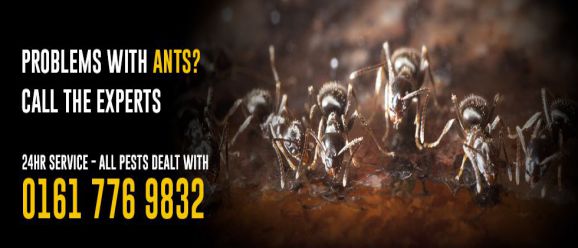 Need Help? Call us on 0161 776 9832 or drop us an email for expert pest control advice on how to identify pest infestations and help solve your problem.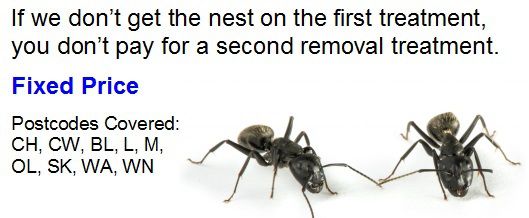 Professional Bebington Ant Infestation Removal
Why Choose Us?
When faced with an inconvenient ant infestation and financially squeezed, we understand the temptation to attempt Bebington ant infestation removal yourself, using cheap DIY pest products. However, in our professional opinion, we strongly recommend you do not try this course of ant control treatment, as do it yourself pest removal can often turn out to be a gamble you may well lose. Customer testimonies and past market research have proven consistently that these more affordable solutions can contain insufficient concentrations of pesticide and insecticide, which are integral ingredients when dealing with an ant infestation in the house. Young's Pest Control offers professional, efficient solutions to an ant infestation in any environment, with set service packages to fit every budget. Should you choose us, our trained team will conduct fast, discreet Bebington ant infestation removal treatment, offering friendly advice and restoring your property to its natural state.
About Ants
Ants are tiny, dark-coloured insects that live and travel in large colonies, nomadically moving from place to place in search of ideal breeding and feeding conditions. There are over 8000 known species of ants, with more being identified even in recent years. Each species differs in its foraging for food, which means ant infestation in the house often requires professional examination and assessment. When nesting in domestic gardens, many species can be harmless and even beneficial in their feeding on other insects. However, when faced with a pharaoh's ant or flying ant infestation, these insects can prove numerous, troublesome and difficult to remove if the problem is neglected. Although they feed on most foodstuffs, certain breeds have now evolved to prefer sweet, artificial products. A flying ant infestation can prove particularly troubling to home lives, as they have been known to bite people they perceive as a threat and can often carry harmful pathogenic agents.
Ant control - our methods
When faced with an ant infestation, we at Young's understand the grief and inconvenience it can cause you and your colleagues or family. However, suppose you choose to invest in professional Bebington ant infestation removal. In that case, you want quality, speed, and air-tight solutions, so you can stop worrying about the issue and get back to the things that matter. Our trained and experienced team of pest control specialists will respond to your ant problem swiftly and at your convenience, assessing the infestation and tailoring a service package specifically to you before tackling it with professional, up-to-date methods and equipment.