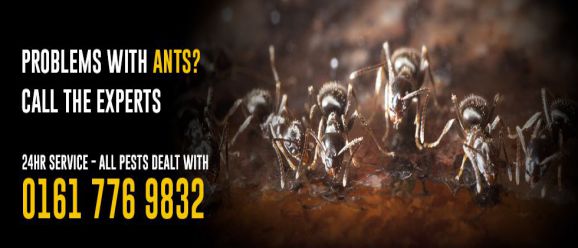 Need Help? Call us on 0161 776 9832 or drop us an email for expert pest control advice on how to identify pest infestations and help solve your problem.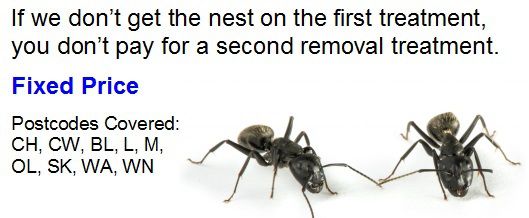 Expert Worsley Ant Infestation Removal
We all fear creepy crawly's invading our personal space and taking full control. With over 8000 species to worry about an ant infestation in the house has become one of the most problematic situations that Young's Pest Control has to deal with. Turning to insecticides and various products in order to perform your own ant control treatment is a bad option. All you will be left with is less money, more potential damage and a bigger mess to clean up. Experts are available 24-7 to help you with a flying ant infestation any time of the day or night. Its the only guaranteed way to clear them out.
The signs
The first thing you need to do if you fear you are suffering from an ant infestation is to learn what particular species or colony you are dealing with.
The carpenter ant is the wood eater of the family. Potential damage in furniture such as large holes may indicate a problem. Their main goal is to create a nest.

The black garden ant is a problem for farmers and gardeners. They have a large appetite and will easily devour crops, vegetables and whatever they can find.
Finding the correct Worsley ant infestation removal treatment with the experts is necessary for removing them.
A nuisance
An ant infestation in a house can be a major nuisance. You are dealing with clever, tiny insects who have a large appetite. Most of their waking life is spent either searching for food or devouring it. Once they enter a building its all about building their colony and nest. You need to consider Worsley ant infestation removal urgently before they start to get too comfortable and devour anything in sight. They may be small but a colony can easily finish a whole turkey or roast. They are not picky eaters.
The experts in ant control
A flying ant infestation either inside or out of the garden is a major problem. Search your home very carefully and look for possible indicators of where they have set up their nest. The most information you have the better when calling out the experts for Worsley ant infestation removal. The important thing to remember is they have the correct equipment to deal with an ant infestation accurately so no traces of them remain. Pick up the phone and call in a matter of urgency before they quickly spread around the house.