Need Help? Call Us On 0161 776 9832 For Expert Pest Control Advice On How To Identify Pest Infestations And Help Solve Your Pest Problem.
24-Hour Woodford Rat Control Treatment 
Rats are a well-known pest and can indeed destroy wherever they infest. They can destruct properties, land, materials, any equipment that you may need - they will destroy anything within their sight. Suppose you believe that you may have a rat infestation in your business premise, restaurant, farm, or property. In that case, you should look for a Rat Control Treatments and Removal Service. This is where we can help you. 
 Rats are probably the most formidable and difficult pest to get rid of - they thrive in any environment they can find, and like mice, are prolific breeders. They can contaminate food and water, structures, and most importantly, they can have a detrimental effect on health and wellbeing. Rats carry an enormous amount of diseases, including Bubonic Plague, Salmonella, Tapeworms, Leptospirosis. They can give a pretty nasty bite if interrupted. There are two main breeds of rats that cause tremendous issues in the UK - they are the brown rat and the black rat, and each is medium-sized and carry the same risk of disease. They contaminate our food and water. 
 Rats are mainly active at night, so it is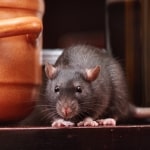 unlikely that you will see them throughout the day unless they've infested a particularly prominent location within your property. If you think you may have a rat infestation, some hints could help. First, you should look out for rat droppings - they have the capability of dropping around 40 droppings a day which could cause an absolute stink in your property. If the droppings are soft and dark, you know that there are rats nearby! You may hear them scurrying around, squeaking and perhaps chewing on the items they may have found - this is when you should call the 24-Hour Professional Pest Control Rats. 
 Other clues to look out for include running tracks - these are greasy marks left by rats as they scour the same route backwards and forwards. They are creatures of habit and leave their trail as they scurry towards vegetation. They also create nests, particularly black rats, under floorboards, attics, and dark unused areas such as barns. If you have any concerns, you should contact Young's Pest Control, the Woodford Rat Exterminator. 
 We are a regularly referred business - our customers are always satisfied when it comes to the quality of service we offer. We are trusted, loyal and are completely dedicated to getting to the root of the issue. We not only exterminate the rats but ensure that they don't return - we aim to restore your quality of life and ensure that there's no risk to your life or health. So if you're looking for a Woodford rat catcher near me, then look no further - we're here for you, regardless of the time of day. We operate a 24-Hour Professional Pest Control Rats Service and a high-quality one at that! 
 When we enter your premises, you can expect the utmost professionalism. We are entirely dedicated to protecting and respecting our environment, which is why we have received full training and guidance from Wildlife Aware. The rodenticides we use are completely safe when using wildlife, pets, children, adults and equipment, meaning it's
one less thing for you to worry about. Our equipment is regularly checked and tested to ensure the most effective Woodford Rat Exterminator takes place and that they never return. We know that rats can be highly secretive and difficult to pinpoint, so we carry out investigations and research to eradicate the issue. 
 If you're looking for a Woodford Rat Catcher near me, then look no further than our highly skilled and knowledgeable team. With regular training, you can expect the best
service quality. At Young's Pest Control, we provide environmentally friendly rat control treatments and removal services with our customers at the heart of what we do. We are professional, entirely dedicated to our customers, and you can rest assured that your quality of life will be restored following our visit.
SK7