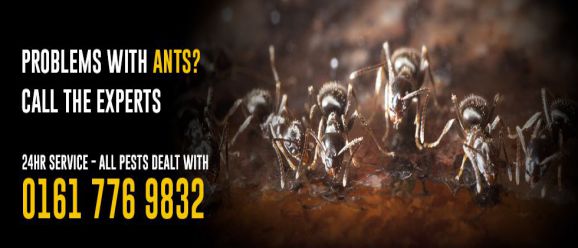 Need Help? Call us on 0161 776 9832 or drop us an email for expert pest control advice on how to identify pest infestations and help solve your problem.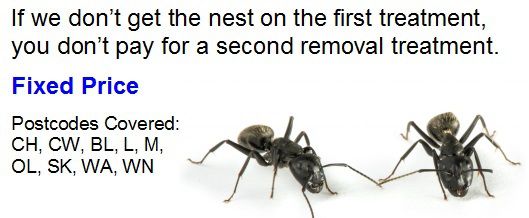 Whitefield Ant Infestation Removal Specialists
An ant infestation in a house can lead to all sorts of problems. It is more common than people think, due to their scavenging nature and tendency to eat large portions of everything in sight it is recommended to order some professional Whitefield ant infestation removal treatment before it gets out of hand. Avoid running down to the supermarket and stocking up on products targeted towards removal, these will only end up giving you more problems. Instead, pick up the phone and call Young's Pest Control. They are experts in Whitefield ant control and can have your home back in order free of chaos before you know it.
Intelligence
These clever insects communicate with each other in a variety of ways, so a small colony of ants can easily call thousands more into your home for a snack

There are over 8000 species to learn about each one with specific behaviours and patterns.

They will have a mission to either forge for food, build a nest or create a colony, either way, you do not want to deal with a flying ant infestation
Once you learn about their patterns and deceiver which species you are dealing with the Whitefield ant infestation removal process can become easier.
Outside
Garden ants are becoming more common in the UK than ever before. If you are a farmer or just a casual gardener then regularly check your crops and flowerbeds for a possible flying ant infestation. They can hide easily in wall cracks or pots without being noticed so traces of possible earth can give them away. A garden ant infestation can also lead a further infestation indoors are the worker ant will search for an opening and go indoors to gobble sugary foods. Getting Whitefield ant infestation removal treatment, in this case, should be an urgent concern.
Wood
Returning indoors to a possible common carpenter ant infestation in a house you would need to check your wooden furniture. This species has a goal to create the perfect nest so they will munch through wood creating a large hole. Shavings of wood will be left around, and in many cases, your furniture can fall apart and suffer severe damage. These insects tend to work very quickly and it does not take long for the trouble to happen. Getting a carpenter ant control should be at the top of your to-do list.