Need Help? Call Us On 0161 776 9832 For Expert Pest Control Advice On How To Identify Pest Infestations And Help Solve Your Pest Problem.
24-Hour Summerseat Rat Control Treatment 
It is very typical for humans to disregard things until they are more prominent and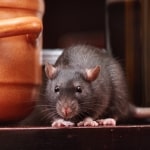 become a nuisance. Regrettably, rat infestations start in the same manner. Many victims of rat infestations tend to ignore the problem until they have suffered substantial damages to their property home. In addition, like mice, rats can transmit many diseases, which can often lead to hospitalisation. 
 The nature of each rat infestation can vary from one place to the other, depending on factors such as the availability of food. You can find rats in ceilings, dark corners of the room, or spaces inside a wall. These pests can gnaw on anything they come across, be it wood, plastic or foodstuff. Additionally, they can shred fabric to lay down their nests, where they can reproduce.
For these reasons, it is essential to take care of a rat infestation as soon as you see their droppings on your kitchen cabinet, floors, or anywhere else on your premises. But, unfortunately, people have their priorities, whether work or family, which keep them occupied for a better part of their day. As such, it would be frustrating to think of adding pest control into the list of tasks to handle. 
 Apart from that, pest control can be
challenging. Choose to approach rat control using the DIY directions you found on the internet. A lot can go sideways, not to forget that you may not be able to eradicate the rat problem. The only person with the skills and expertise to handle a rat problem efficiently is a rat control and removal service, technician.
 Most people do not fully grasp the benefits of hiring a professional over handling the rat problem yourself. This post will discuss more about why you should contact a Summerseat Rat Exterminator to control these pests.
Advantages of Hiring a Summerseat Rat Exterminator
 These top advantages make professional rat control services better than implementing any do-it-yourself pest control procedures.
Prevent Exposure to Dangerous rodenticides
 One of the most incredible benefits of letting someone else handle rat control on your behalf is safety from hazardous rodenticides. In most cases, amateurs feel that spraying or using too many rodenticides is the right way to handle a rat problem. However, apart from being a waste of expensive pesticides, using too many rodenticides can cause significant health problems that may sometimes lead to hospitalisation if the case is severe. 
 A Rat Control Treatments and Removal
Service would help you stay safe from hazardous rodenticides. In addition, they will follow the proper industrial protocol when administering rat treatment. As such, it is good to request these 24-Hour Professional Pest Control Rats Services today. 
Avoid Worsening the Rat Infestation
 Like any other pest, rats can develop a resistance to pesticides if they are wrongly administered. Once these pests develop a resistance to rodenticides and procedures, it may become difficult to eliminate them using conventional methods. Thus, applying DIY techniques has often been a primary reason pests adapt to harsh conditions created by pest control-related practices.
 A Summerseat Rat Catcher Near Me has the necessary skill set to handle the infestation professionally and provide a proper elimination method. With their 24-Hour Professional Pest Control Rats Services, you will never experience secondary issues once the elimination process is over.
DIY Routines are Expensive
 Sometimes, it can be difficult to believe that hiring a Summerseat rat catcher near me is cheaper than implementing some DIY routines. Luckily, a few calculations can prove that you can save lots of money when you hire the services of a 24-Hour Professional Pest Control Rats Specialist. 
 Suppose you consider factors such as the trials and failures in most DIY pest rat control procedures. In that case, you will realise that paying for a single-time rat control procedure leaves some coins in your wallet. However, even if the first eradication procedures do not work, these professionals will provide after services at a small fee to ensure that your home is free from any rats. 
 It can be challenging for any individual to control rats, especially if it is their first time. For that reason, it may be a good idea to contact Rat Control Treatments and Removal Service specialists to handle the problem on your behalf.
BL9