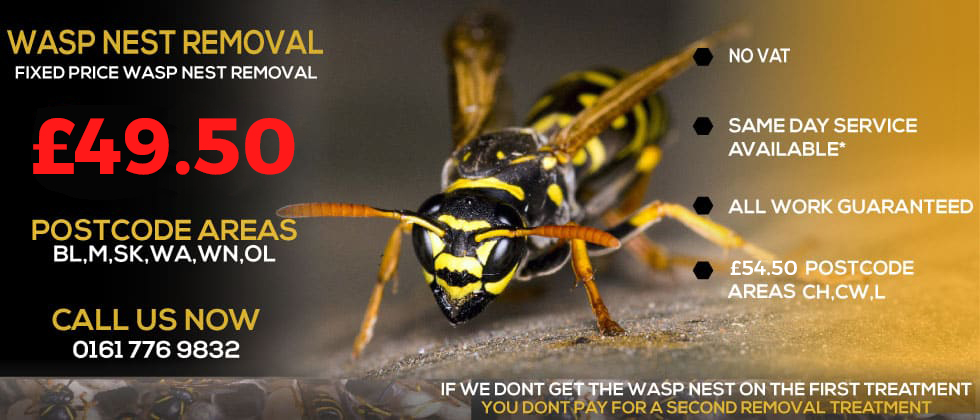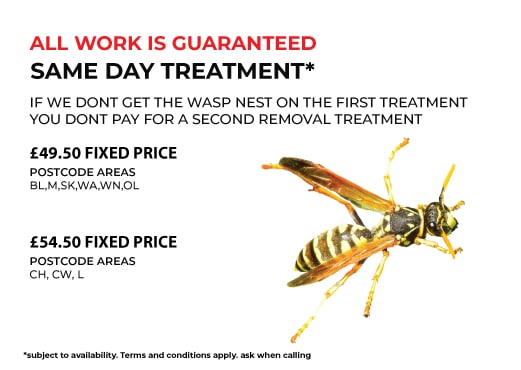 Need Help? Call us on 0161 776 9832 or drop us an email for expert pest control advice on how to identify pest infestations and help solve your problem.
Stoneclough Wasp Nest Removal 
Get Rid of Wasp Nests!
A hornet or wasp nest can be an annoyance at best. At worst, it could be a serious safety hazard. Stings from wasps and hornets can cause severe and potentially life-threatening allergic reactions. They are also extremely painful, and they are particularly dangerous for pets and young children. Hiring an experienced hornet and wasp exterminator ensures you get rid of wasp nests safely and effectively. Our reliable and trusted Stoneclough wasp nest removals are quick and affordable, letting you go back to enjoying your property in no time.
Benefits of using an expert wasp exterminator
Wasps and hornets can be unpleasant neighbours. Wasps are known to be aggressive and often attack in swarms. They can also sting with little or no provocation. While hornets are not as aggressive as wasps, they pack a bigger punch with a much more painful sting. Hornet and wasp control keeps you and your property safe from potential stings.
You might think do-it-yourself hornet and
wasp control might be a cheaper alternative. Yet, DIY jobs might mean higher hornet and wasp nest removal costs. Many products available from your local shop might not be enough to successfully deal with a nest, especially if you are facing a larger nest. These products tend to have low levels of insecticide. While they might be great at getting rid of one or two unwelcome guests, they are as effective when you want to get rid of a wasp nest. Hiring a professional guarantees the nest is removed on the first attempt.
Professional exterminators have the right tools and treatments to take on a hornet or wasp nest on your property. They also know what they are doing. Trying to remove a nest yourself might provoke wasps and hornets, resulting in a nasty attack. This might also result in injuries to yourself or attacks on nearby children, pets and others. You might also inadvertently cause property damage trying to remove a nest. Trusting a removal to an expert keeps you, your property and others safe.
Finding nests in your property
Wasp and hornet nests are typically easy to spot. They can be found under eaves, including on sheds and other structures in your garden or lawn. Nests are also built on tree branches and large shrubs, especially when you are dealing with hornets. Made from saliva and chewed wood pulp, hornet and wasp nests usually appear during warmer months in the spring and summer.
You might find nests inside your home or business as well, including within wall cavities or the loft space. These nests might be harder to spot. If you see multiple wasps or hornets inside your property, chances are there is a nest nearby. You can also inspect your loft space by turning on the lights and waiting for a half-hour before having a look.
When you find a hornet or wasp nest, contact us for proven solutions. Even if you suspect a nest, contact us and our experts will inspect your property. They will be able to confirm whether or not you have a nest and offer you options.
Our hornet and wasp control services
Our Stoneclough wasp nest removal and hornet control services deliver effective and humane solutions. We tackle all sizes of nests and in all locations, both inside and outside your property. No removal job is too small or too complex for us! Whether you are a business owner or a homeowner, we are here to help.
When you trust us with removal, we deliver friendly and honest service. We will arrive in an unmarked and discreet vehicle to ensure your privacy. Our insured and qualified exterminators work quickly and are often in
and out on the same day. You can even remain at your property while we complete the work. Our flat-rate fee also means we offer hornet and wasp nest removal costs that are fair and affordable.
Keep yourself and others safe. Call us to remove a hornet or wasp nest from your property!
M26