Need Help? Call Us On 0161 776 9832 For Expert Pest Control Advice On How To Identify Pest Infestations And Help Solve Your Pest Problem.
Stockport Woodworm Treatment - You Don't Have To Say Goodbye to Your Furniture!
Picture the scene. You've bought a lovely Tudor cottage which has been lovingly looked after. Everything is how you want it and you've moved into your dream home. Only weeks in, you look up at the beams and realise you have all the signs of a woodworm infestation. Before you go out and spend a fortune on some cheap Stockport woodworm treatment spray filled with unknown insecticides, it's important to call an expert pest controller such as Young's.
What Are Woodworm?
There is no such pest as 'a woodworm'. It's the generic term for the many different pests (predominantly beetles) that inhabit wood and furniture. Because there are so many different types of woodworm, there is no hard and fast rule about which types of wood they inhabit, or even whether they prefer old wood or newer furnishings.
In appearance, woodworm beetles generally have a cockroach-like an appearance, and all of the species are around 3-5mm in size. Once they find an ideal habitat, the woodworm infestation can lay undiscovered for months, meaning that treatment for woodworm is nearly always reactive in nature.
How Do I Know If I Have Woodworm?
There some obvious signs of woodworm; it is not a sure thing that you'll see the beetles as, once they find the wood that they want, they will burrow in and stay for up to several months, only coming out in the Summer months to lay eggs. So you may find dead beetles in or around wooden furniture and beams/wall supports, as well as shed skin depending on the breed.
You'll also possibly find what looks like sawdust near where the beetles have exited the wood. This is known in professional circles as frass.
Weakened, splitting and crumbling wood is also another sign; however, depending on the age of your house, this will not always be a woodworm infestation. If you need Stockport woodworm treatment for furniture and fittings, this may just be ageing of the wood; however, we will be able to put your mind at ease in any case.
What Can I Do?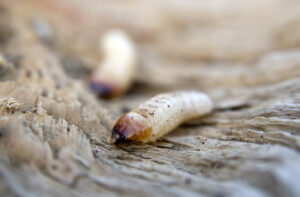 The easiest and safest thing to do is call an expert company such as Young's; if you use Stockport woodworm treatment for furniture, you may end up covering the house in insecticides. If you use a Stockport woodworm removal treatment spray, you may be firing it at an old problem if the woodworm has left; when the new larvae hatch, you'll just get a fresh set of problems. Any home treatment for woodworm removal is dicey at best and a real headache for anyone who is not a professional pest controller.
Young's Pest Control will be able to attend promptly and at any time of the day or night, assess the problem and advise on the best course of action. Our expert staff can determine the root and the solution. One call and you can continue with your day whilst our friendly trained staff take care of the problem and provide preventative measures and advice to stop it coming back.