Need Help? Call Us On 0161 776 9832 For Expert Pest Control Advice On How To Identify Pest Infestations And Help Solve Your Pest Problem.
Professional Shaw Woodworm Treatment
The term woodworm generally refers to the larvae stage in the lifecycle of beetles. Understanding more on what woodworm are is however important if you are dealing with woodworm infestation for the first time. You also need to know what the insects are capable of.
Woodworm is immature beetles that bore holes into moist timber. At times, all it takes to identify the presence woodworm in your home is fine powder and dust on floor beams, boards and ceilings. However, it is hard to spot the little beetles unless the woodworm infestation is at its advanced stages.
The different types of woodworm

There are about four types of woodworm in the UK. A brief knowledge on each will, therefore, help you in determining the need for professional Shaw woodworm removal treatment. These are the:
• Common Furniture Woodworm - mainly affects loft timbers, worn-off polished timber and damp floorboards. In addition, their larvae can extensively damage timber if a quick treatment for woodworm is not carried out.
• Death Watch woodworm Beetle- measures about 7 mm long and loves wet rot in timbers. They are called deathwatch because they are mostly nocturnal. You, however, need a professional Shaw woodworm treatment expert to help you in identifying this type of woodworm.
• House Longhorn woodworm– it is only the larvae that destroy timber as the adults do not. They are however larger than the common furniture beetle.
• Powderpost beetle – loves starchy and porous woods such as the oak and elm. Without proper Shaw woodworm treatment, your furniture and joinery would be greatly affected by this type of woodworm.
How to identify woodworm infestation

It is important that you make sure the pests in your home are woodworm before taking up any pest control measures. In fact, you must be certain that the holes you saw on the floor, ceiling, furniture or other household items are active before you request for Shaw woodworm removal treatment spray. Usually, there must be larvae boring holes for a woodworm problem to be considered as active. Alternatively, you can consult reputable companies like Young's Pest Control if you cannot identify the infestation on your own.
Why call the professionals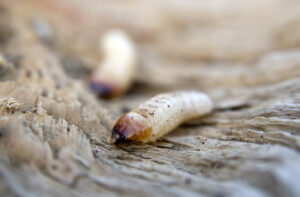 Even if you correctly identified woodworm on your structures, the Shaw woodworm treatment spray needs to be used correctly in order for it to be effective. There are also chances that if you are not an expert in Shaw woodworm treatment then you may be applying the wrong treatment for woodworm. However, calling professional Shaw woodworm treatment professionals like those from Young's Pest Control eliminates this problem among others. In fact, they offer a guarantee on every service done. They also use the latest technology in pest control and have a strict adherence to the prevailing legislation on pest control in the UK.
You stand to benefit much from the professional advice that Young's experts will offer you during the pest control visit. From this, you will be able to know what to do in order to prevent woodworm infestations from reoccurring. You are also free to call the professionals any time of the day or night, even if it's an emergency. With our kind of Shaw woodworm treatment, furniture lovers can rest assured that the pests will be taken care of once and for all.