Need Help? Call Us On 0161 776 9832 For Expert Pest Control Advice On How To Identify Pest Infestations And Help Solve Your Pest Problem.
Experienced Shaw Grey Squirrel Control
Grey Squirrels: The Unexpected Pest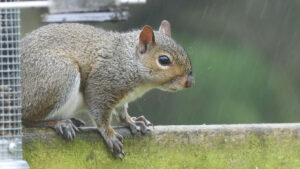 When people think pests, rodents and home invasions, they think of mice, rats and other similar creatures. What they certainly do not think of are the lovely grey squirrels that they see in the park. These cute, innocent and timid creatures surely wouldn't come into our homes. However, recent years has seen many grey squirrel control teams having to operate in the UK because of a large increase in the numbers and population of the grey squirrels. Shaw grey squirrel control is something that is much needed as they can cause so many problems in a house and squirrel removal is something that should be done by a professional because, this may sound slightly ridiculous but squirrels have been known to attack humans in a variety of different instances and if bitten, there is actually a high chance that a human could contract some of the diseases they could carry.
How Do Squirrels Get In?
Shaw grey squirrel control is something that takes place in all areas of the house. As you can imagine a squirrel is very nimble, agile and good at climbing. This means they can virtually get in at any point in the house. One common place is in the loft because there are often flaws and gaps there that a squirrel can fit through and they will have no problem climbing up to the top of your house.
A squirrel will exploit pretty much any flaw, imperfection, crack or hole that you may have in your property. Even if the crack is ridiculously small, a squirrel can still make its way in. They have remarkably strong and durable teeth which means they can easily gnaw away some of the material in order to make a hole, that you still wouldn't think would be big enough, that they can fit through because of how flexible and nimble they really are.
Why Use Professional Squirrel Removal Teams?
Shaw grey squirrel control is a very hard process, especially for those people who are inexperienced. An experienced team, like Young's pest control, who are based around the Manchester area will have dealt with the problem several times before which means they are able to successfully eliminate all traces of squirrel from your home. As mentioned above, squirrels can get aggressive so it is definitely worth calling a professional to deal with them. A professional team like Young's will also put in place measures that prevent the same squirrels from invading your home on a second occasion.