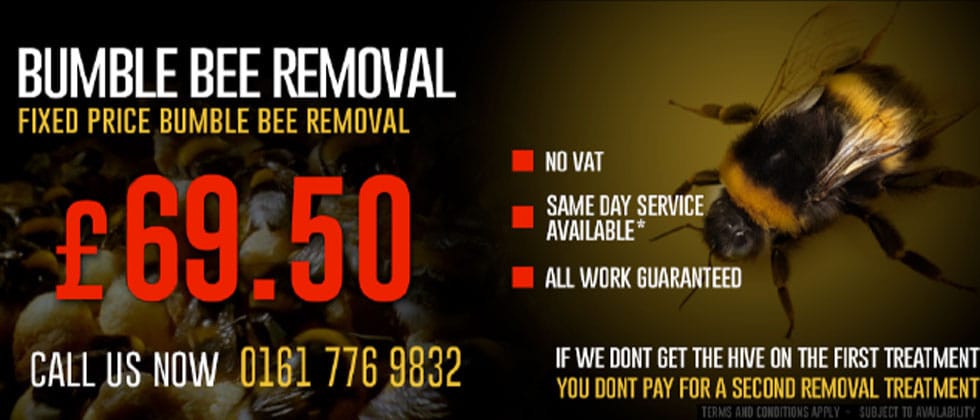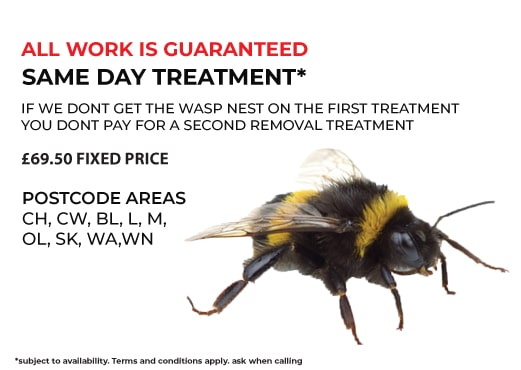 Need Help? Call us on 0161 776 9832 or drop us an email for expert pest control advice on how to identify pest infestations and help solve your problem.
Local Shaw BumbleBee Control Experts
Have you spotted larger than normal bees swarming about your house? Do you have bird boxes that may be hosting a potentially dangerous Tree BumbleBee nest?
Tree BumbleBee
You need the best Shaw bumblebee control service. So call Young's Pest Control Now
-Top quality customer service is our number one priority
-Ultra fast service- in an emergency, we will arrive within the hour
-We are Shaw bumble bee control experts
-Awesome fixed rates
-All your concerns are taken seriously. No job to small
-We are ready for action 24 hours. Call us any-time!!!
Tree BumbleBee Dangers

- Build nests extremely quickly
- Love warm weather especially June and July
- Bee numbers can grow to unmanageable numbers with little warning
- Build nests in bird boxes
- Swarm in clouds that terrify children
- Have an aggressive defensive response when they sense noise vibration
- Innocent noises like a door slamming or a hammer can provoke a sudden attack
- Have multiple stings per bee unlike the normal honey bee
Be responsible and should you see any signs of Tree BumbleBees on your property than do the right thing and call Young's Pest Control. We are experts at Shaw bumble bee removal and bumblebee control.
Warning: Do not attempt to remove Tree BumbleBees by yourself

-Any type of pest removal cannot be done properly without professional help
-Young's Pest Control are fully trained with years of experience
-We have all the right equipment and toxic-free insecticides, including the latest infra-red bee removal technology
-We pride ourselves on going the extra mile and will not stop until all bees and nests are 100% removed
-We back ourselves with our promise. Any type of recurrence we will immediately remove any secondary threat without further charge
-Don't be kept waiting by a bee-keeper. We are the pest removal professionals and will come to you immediately with a 100% commitment to bringing you a complete solution
BumbleBee
No-one wants to be attacked by a swarm of bees. We all remember the unsettling experience of being stung by bees as children! Protect the vulnerability of the elderly!
Make sure that your property or commercial premises are a safe place for your family and customers.
If you suspect you have a Tree BumbleBee problem then call Young's Pest Control right away.