Need Help? Call Us On 0161 776 9832 For Expert Pest Control Advice On How To Identify Pest Infestations And Help Solve Your Pest Problem.
Expert Rochdale Grey Squirrel Control
Damages Caused by Squirrels
Many people describe the squirrels as a very cute rodent which can sit on rare legs and use the forelegs as hands when breaking nuts. They never take time to explore the other side of the so-called cute animal. Just one of these rodents in your house or backyard and it will leave a mess you never imagined can be done, in such a short period of time. Those who have had this experience know better, and immediately they spot any sign of squirrel, they call Young's Pest Control for Rochdale grey squirrel control.
What they can do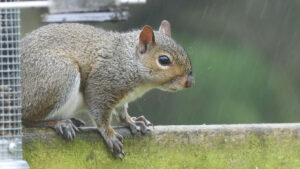 There are so many things squirrels will do. Some of these are:
- Damage your trees
- Digging burrows in the compound
- Dig out your tuber plants such as cassava and sweet potato
Timely squirrel removal will save you all these damages and house damages anytime you engage such service providers. They usually dig out plants such as sweet potatoes, take a bit and move on to the next one which constitutes just pure damage, but they are rodents and that is what they are made to do. It is your responsibility to get the services of professionals for Rochdale grey squirrel control.
Expect to find many holes which are dug by the squirrels on your backyard. Some squirrels live on trees while. It is also possible to find others dig burrows as their homes. These burrows attract other unwanted visitors such as snakes near your house. The garden you have taken so much time to beautify, you will one day come and find heaps of earth from the soils they excavate when digging the burrows.
The rodents don't just stop there and the earlier you realise you need Rochdale grey squirrel control, the less the damage you will incur. Some squirrel species live on trees and since they don't fly, they use their sharp nails to climb the trees. Whenever the nails are used, you know it means damage to your trees. They will also keep biting the tree as they make a good place to sleep.
Can they be removed?
Yes! This can be done easily if you contact professionals with the right tools and skill for squirrel removal. Different places have different laws on Rochdale squirrel control which the professionals from Young's Pest Control perfectly understand. This means that you will not find yourself on the wrong side of the law due to ignorance. It takes a very short time for the job.