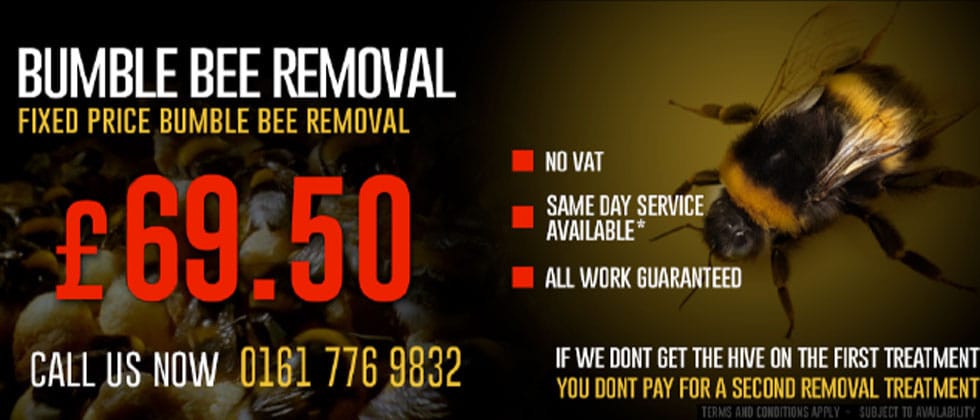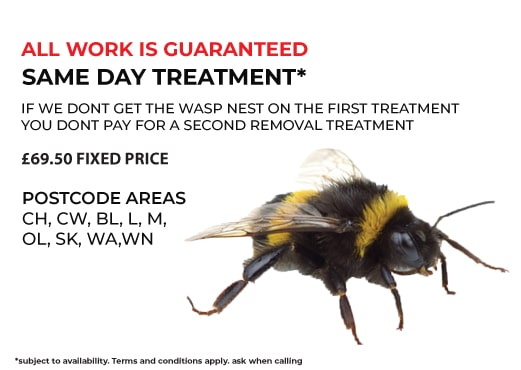 Need Help? Call us on 0161 776 9832 or drop us an email for expert pest control advice on how to identify pest infestations and help solve your problem.
Rochdale BumbleBee Control Services
Bumblebees can be dangerous and irritating pests when they nest near where people live and work: clogging up vents with their nests, creating irritating buzzing sounds when they make the attic their home, and generally posing a health risk because of their painful stings and the potential for serious allergies to develop.
What to do when bumble bees start causing a problem? Rather than go through all the hassle of researching Rochdale bumblebee control methods and risking injuries, leave the job to the experts. There are many reasons why professionals like the staff at Young's Pest Control are the best choice when it comes to Rochdale bumblebee removal.
- How the infestation is treated depends on the species - professionals can tell different species apart and determine the best control method to use.
- Nests are often in hard to reach places. Working from a ladder or in a tight spot is tricky and can be dangerous to attempt without experience, but experts have safety training and lots of practice working in unusual circumstances.
- Professionals are familiar with tree bumblebees, a relatively new pest from Europe that is more aggressive than many other bee species. Tree bumblebees often nest in and around homes and are very easy to provoke into attacking, so bee handling knowledge is crucial.
- Proper personal protective equipment can make the difference between a fast, safe job and a tricky, dangerous one - professional Rochdale bumblebee control technicians have the right safety equipment to avoid being stung.
- Researching Rochdale bumblebee removal methods and searching for the right products to use is time-consuming, and there is no guarantee that DIY methods found online are safe, or will even work. Bringing in the professionals is as easy as picking up the phone, and the problem will be easily remedied as soon as possible.
- With proper training in the use and handling of insecticides, pest control experts have access to better treatments and can use them without risk of accidental poisoning or contaminating the area around the nest.


If a Rochdale bumblebee nest removal treatment is in order, remember to save time and stress by calling in Young's Pest Control, open 24 hours a day and offering emergency services. Don't risk a painful sting or another injury when their expert staff can get the job done safely and quickly at an affordable rate.