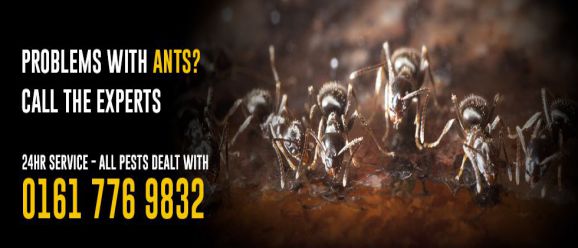 Need Help? Call us on 0161 776 9832 or drop us an email for expert pest control advice on how to identify pest infestations and help solve your problem.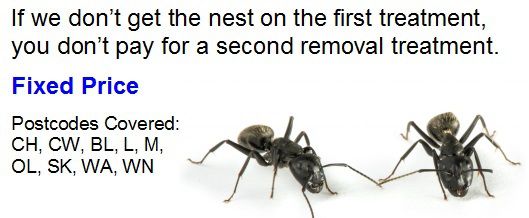 The Efficiency of Professional Rochdale Ant Infestation Removal
Ants are arguably the most organized insects. Hundreds of thousands of these insects can live together in a colony for many years. The problem, however, is that they sometimes make nests in people's homes. When they do, they become health hazards and therefore need to be removed. A successful ant control treatment will, however, depend on the Rochdale ant infestation removal technique used.
The lifecycle of ants


Understanding how ants thrive is the first step towards successful professional Rochdale ant infestation removal. Like most insects, an ant's life begins as an egg. The queen usually lays eggs that then turn into larvae after a week or two. Since the larvae eat a lot, adult ants must work extra hard to feed and protect them.
Upon successful moulting, the larva then changes to pupa. The pupa, in this case, can be a male drone, worker or queen. While it is possible to see the eggs, larvae or pupae, adults are easier to identify. You just need to know what to look for. Proper identification eliminates the unnecessary worries associated with false ant infestation identification.
Signs of ant infestation

Proper identification means the right treatment. But how do you tell that you have flying ant infestation? Well, as long as you can spot winged ants around the doors and windows, see excrement or hear some sound from a disturbed colony, then it's probable that you have a flying ant infestation problem.
When to call for professionals

Even though Do-it-yourself ant control treatment techniques tend to be cheap, in most cases they are ineffective. They can contain the situation for a few days, but after a while, the ants seem to come back again. Again, ants will require different treatment methods depending on the type, which may be beyond the scope of a DIY ant removal method.
Since ants can bite and contaminate food, it is important that you take on reliable treatment methods such as that offered by professionals. Young's Pest Control has been offering pest treatment services for many years and thus they can perfectly handle your problem.
Why Choose Young's Pest Control
• The services are available at any time of the day
• The Rochdale ant infestation removal service will be fully done in just one visit.
• The experts decide on the most effective ant treatment technique after assessing the infestation level.
• They always use harmless, odourless but efficient insecticides to ensure your normal routine in the house is not disturbed.