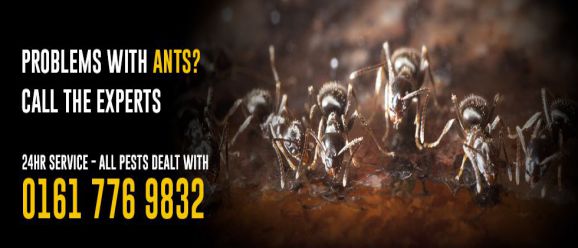 Need Help? Call us on 0161 776 9832 or drop us an email for expert pest control advice on how to identify pest infestations and help solve your problem.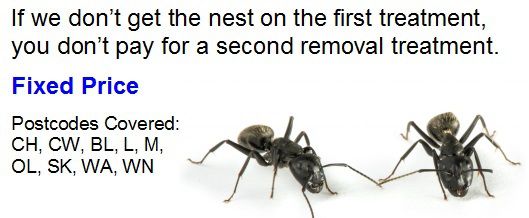 Professional Radcliffe Ant Infestation Removal
Ants belong to the order Hymenoptera in the insect sub-kingdom. Once in your house, this wasp like insects can interfere with your normal routines should you fail to apply an effective ant treatment.
Important facts about ants

Ants are highly social insects can be found found in most parts of the UK. Their life-cycles begin with the egg, followed by the larvae then pupae and finally the adult.
Another important fact you should know about ants is the size of their colonies, which may have more than five hundred thousand members. Interestingly, these colonies can disappear very fast in case of danger. In addition, ants (especially the queen) can live for up to 15 years. There are also seasons when flying ant infestation is common, especially during the rainy seasons. Getting rid of these ants will also require a professional.
Types of ants

There are over 11,000 known species of ants. However, only a few types live in the UK. Below are the three main types of ants to help you identify the best Radcliffe ant infestation removal technique when the time comes:
• Garden Ant – This ant has no stings and lives outdoors. You can sport it around the building's pavements and soil. To be sure that you are dealing with the Garden ants, look for soft soil around their nest.
• Roger's Ants – They are easily identifiable by their constricted abdomen. Unlike garden ants, Rodger's ants can sting. Always check out for them around the dustbin and cracks on tiles and drains.
• Pharaoh's Ant – If you can spot two segments at the pedicel, then you are dealing with the Pharaoh's Ant. This species loves heated buildings such as hospitals thus the need for urgent.
The danger of an ant infestation

Many homeowners are not aware of the danger an ant infestation in the house exposes them to. Without professional Radcliffe ant infestation removal, ants can easily spread diseases through food contamination. This usually happens when they crawl over any food that is left open at home or in the restaurant.
Their stings are also pretty painful, though not all of them can sting. You should, therefore, contact the closest pest control company as soon as you identify the infestation.
Professional ant control

Your best solution to an ant infestation in house is Young's Pest control. Our experts have the required skills to handle any of your pest problems, including flying ant infestation. We also ensure that the Radcliffe ant infestation removal treatment we use does not in any way affect those in the compound. Call us today and we will be at your doorstep within a few hours.