Need Help? Call Us On 0161 776 9832 For Expert Pest Control Advice On How To Identify Pest Infestations And Help Solve Your Pest Problem.
Qualities that make us the Best in Pendlebury Woodworm Treatment
At Young's Pest Control, we receive many calls each day by property owners who are concerned about woodworm infestation. Woodworm attack furniture and other wooden fixtures and structures. There are several qualities that make us the best at Pendlebury woodworm treatment and control.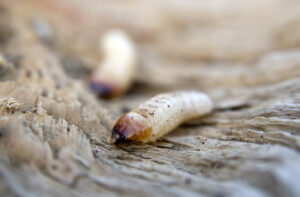 1. We stand behind our work and we will not leave your home until the treatment for woodworm removal has yielded the desired effects. Our superior spray eliminates the woodworm beetle in all its life stages.
2. We have some of the most competitive rates in the industry. We are a sole trader, which means our overhead costs are very low and we can, therefore, afford to give our customers a good deal.
3. You should come to us because we offer personalized services. This is something you do not get with most of the bigger companies. Personalized service is important because it means we will be solving your specific problem. We will go to the root of your woodworm problem and use the right Pendlebury woodworm treatment spray for the job.
4. We not only apply the Pendlebury woodworm treatment spray, but we also repair and clean the damage that has been left behind by the pests. We also put preventive measures in place to reduce the risk of a future infestation on your furniture.
5. Our team has the necessary personal protective equipment, including face masks. This is important because Pendlebury woodworm treatment spray fumes could harm your health. This is one of the main reasons you should never attempt to do the spraying yourself.
6. You should seek treatment for woodworm removal from us because we are insured. We have general liability insurance that will cover you in case anything goes wrong. If you have homeowner's insurance, it is important that you go for an insured pest control service to prevent voiding the policy.
7. We are qualified by the relevant industry and government regulatory body. The licensing is given after thorough scrutiny of the tools of the trade, system, qualification of personnel, and track record. With us, you are guaranteed of the highest quality services. We are members of leading professional organizations. Membership to these organizations is important because it means we abide by stringent rules, regulations, and code of ethics.
8. Our team understands the local bylaws. Different jurisdictions have different rules that govern how woodworm should be exterminated, including the products to use. Hire us to treat your furniture to avoid getting into trouble with the law.
9. We will develop your contract jointly with you. We will answer all questions that you may have about our services and our company.
10. Come to us because we do more than woodworm control. You will get value for money with a company that offers different services under one roof. You should also do comprehensive pest control because if you notice one pest, chances are that you also have other pests.
11. Our products are environmentally friendly, designed for minimal negative effects on human beings, pets, and the environment.
12. Our team will handle your Pendlebury woodworm treatment with the discreetness a pest infestation deserves.