Need Help? Call Us On 0161 776 9832 For Expert Pest Control Advice On How To Identify Pest Infestations And Help Solve Your Pest Problem.
Tips for Complete Mossley Woodworm Treatment Solutions
Woodworm infestation is dangerous because it causes damage to furniture and other wooden items and fixtures. At Young's Pest Control, we have several tips that will help you completely take care of your woodworm infestation.
1. You should know what the common woodworm beetles look like because early identification means you can take action before the problem exacerbates. Anobium punctatum (the common furniture beetle) is the most common woodworm beetle in the UK. The beetle grows to between 1.5 and 2 millimetres in diameter and between 3 and 5 millimetres in length. Other common woodworm types in the UK are xestobium rufuvillosum (death watch beetle), hydrotropes bajulus (house longhorn beetle), and lyctus brunneus (powder post beetle).
2. You should know where to look. Different beetles attack different types of woods and thrive under different conditions. As an example, you are most likely to find the common furniture beetle on building timbers like floorboards and joists. You should also know other signs of woodworm such as bore-dust near furniture.
3. An effective woodworm removal tip is prevention. The most effective way of doing this is treating timber. At Young's Pest Control, our experts will guide you on the best timber treatment methods.
4. Woodworm thrives in high humidity areas. You should, therefore, take measures if you live in a house that has a humidity of over 12%. You are at greatest risk at the humidity of over 18%. At Young's Pest Control, we have the necessary timber moisture meters to give you accurate humidity readings.
5. Once we have done the Mossley woodworm treatment, we recommend that you call us in after some time to monitor progress by observing your Mossley woodworm treatment on furniture.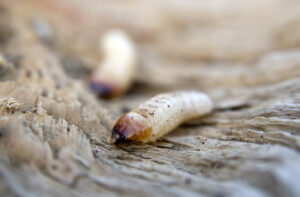 6. You should note that woodworm beetles exit during winter months (between May and September), but this is not the only time you should call us in. Woodworm stays inside the timber for several years before they emerge to mate. This is why we recommend you call us for regular Mossley woodworm treatment spray. To determine if you have a woodworm problem, one of the strategies we use is applying masking tape on the woodworm holes.
7. Call us the moment you notice a woodworm infestation because the longer you stay, the harder it will be to get rid of the woodworm because the beetles will continue to lay their eggs.
Some people choose to get rid of woodworm themselves, but we advise against this because treatment for woodworm is time and energy consuming and doing the job yourself can interfere with your social life and even your work. There are several other reasons why you should hire us.
A Mossley woodworm treatment spray requires the sprayer to put on a face mask. At Young's Pest Control, we have the necessary personal protective equipment. The fact that you do not have to buy this equipment, as well as the necessary supplies and equipment, means you will save money.
Our experience and training mean we are able to do the job to the right standard. You will also have peace of mind knowing that a pro is on the job.
We understand the laws governing treatment for woodworm removal, meaning you will not get in trouble with your local authority.