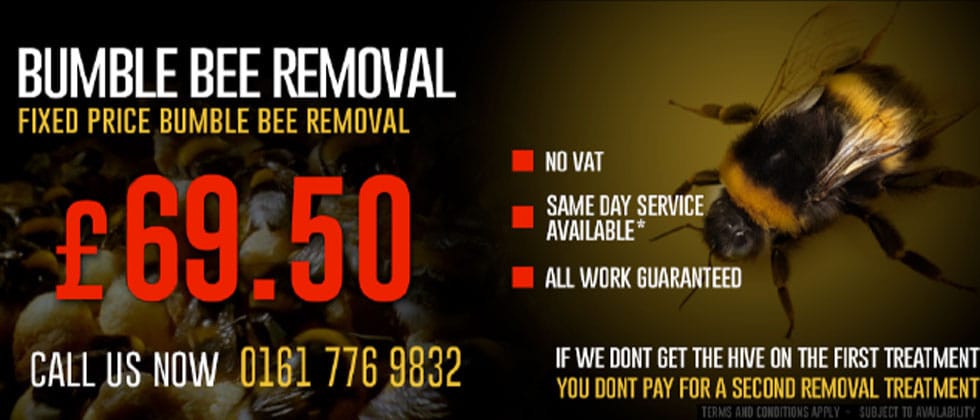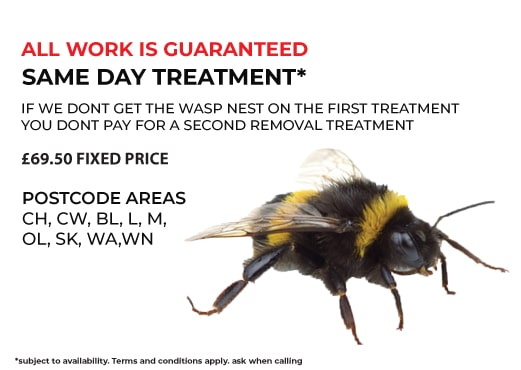 Need Help? Call us on 0161 776 9832 or drop us an email for expert pest control advice on how to identify pest infestations and help solve your problem.
Experts in Milnrow BumbleBee Control
For an effective Milnrow bumblebee control process, there are certain things homeowners need to understand. Knowing more about bumblebees helps in deciding on whether it is safe to tolerate having their nests around or not. At times, lack of such knowledge can prompt one to take dangerous measures, such as removing the nest on their own, which may lead to bad happenings. Young's pest control professionals, therefore, try to make sure that you are well informed about what may just be happening in your yard.
Ordinarily, bumblebees make their nests under rocks, rodent holes or in tall grass. However, due to human activities such as farming, these locations are being eliminated. The bees have resorted to improvising new nest locations. This is why it is common to see bumblebee nests under garden sheds, old plant pots and even bird boxes.
Why you need to call Milnrow bumblebee control experts:

Tree Bumble Bee
• Among more than 250 bee species are the rare tree bumble bees. Only a few of their colonies survive in a year. This, therefore, means that a nest is never permanent and may only last a season. Professional pest removal experts will, therefore, advise you on the possibility of the bees rebuilding their nests around where you want them removed.
• These bees are very docile and in most cases don't bother anyone. They, however, become a nuisance when they pose a threat of stinging those living nearby.
• Bumblebee colonies are only successful when they produce queens. The Queen's role is to lay eggs from which workers and drones are produced. If the colony is disturbed, one risks being stung, and if they are allergic to stings then the situation may be very serious. Young's professionals will, therefore, help you remove the nest without anyone getting hurt.
• While bumblebees may seem harmless, you should never let them reach a point where they become pests. Anytime you get to see more and more of them, call in experts to help you locate and remove the nest with their best Milnrow bumblebee control method.
Young's Pest Control experts are the right people to call when you need to remove tree bumblebees from a residential or commercial structure. Their work gives greater importance to environmental conservation and is conscious of biodiversity. You can, therefore, call any time since Milnrow bumble bee removal services are provided on a 24-hour basis.