Need Help? Call Us On 0161 776 9832 For Expert Pest Control Advice On How To Identify Pest Infestations And Help Solve Your Pest Problem.
Professional Middleton Woodworm Treatment Spray
You heard your building contractor talking about how woodworm destroys structures and how you should be on the look-out for them. But what is woodworm? Simply defined, woodworm is the larvae of different kind of beetles. They feed on wood from the inside out. Accordingly, you do not realize there is a problem until it is very late and the damage has already been done.
Important woodworm information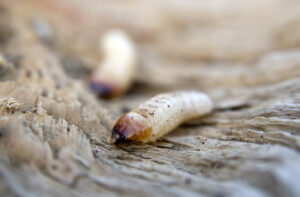 An adult beetle lays its eggs in cracks and crevices on wooden furniture, timber and even floorboards. The eggs then become larva which is the most destructive stage of the beetle. The larva burrows deep into the wood making it difficult for them to be seen. They feed on the wood thereby weakening the structure. As the larva grows and increases in size, they make their way to the surface of the wood which is they where they turn into pupas and later into adults beetles.
It is important to note that different types of beetles prefer to bore into different types of wood. For example, some beetles like to lay their eggs in soft woods like cedar while others prefer hardwoods like mahogany. To identify the beetle species you are dealing with, it is necessary to consult a woodworm infestation expert. The expert will also tell you which Middleton woodworm treatment is best based on the species.
How to tell you to have a woodworm infestation
It may be difficult to tell if you are dealing with an infestation since the woodworm buries themselves deep in the wood. However, there are some tell-tale signs. These include:
•Bore dust or frass which is fine powder usually visible below timber that is infested
•Oval or round shaped exit holes in your wooden furniture or timber.
•Crumbling edges and corners on your wooden floorboards
•The presence of adult beetles emerging from holes in timber
•The presence of dead beetles in infested timber
Why you should hire professionals

The minute you suspect you are dealing with woodworm, you should contact professionals like Young's pest control. This is because if left untreated, woodworm will eat your timber seriously weakening it. This will result in structural failure which can be costly to repair. Experts know not only how to identify woodworm but also how to get rid of them using the appropriate treatment for woodworm removal.
Another reason to hire experts is that they have the necessary expertise. There are dozens of Middleton woodworm removal treatment furniture products in the market. However, not all are as effective as they claim. Unless you want to waste your hard-earned money on Middleton woodworm treatment furniture solutions that will not work, it is prudent that you hire a professional. Having tried and tested different products from wax to Middleton woodworm treatment spray; they know which one is right for you based on their assessment of the problem. What is more, they have the right equipment to administer the Middleton woodworm treatment spray, for instance, which has to be applied inside the wood.
Lastly, by hiring a professional, you get value for money. In addition to helping you get rid of the woodworm, Young's pest control will also give you tips on how to avoid other types of pests from coming into your home.