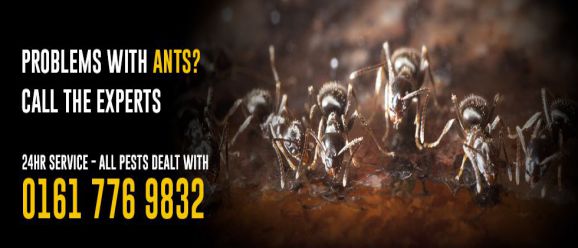 Need Help? Call us on 0161 776 9832 or drop us an email for expert pest control advice on how to identify pest infestations and help solve your problem.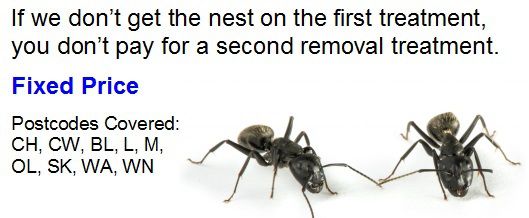 Marple Ant Infestation Removal
It takes a lot of hard work to settle down and manage a home. With work, social and family life it is common to forget simple details and closely monitor what's happening in your personal space. One big fear on the rise is an ant infestation in the house. This can appear like a simple issue until it is left ignored for a long period of time. Then you are going to have to suffer from a serious flying ant infestation that will require a professional Marple ant infestation removal service urgently by experts such as Young's Pest Control who will destroy them for you.


Species
They may be small and hard to spot as individuals through the naked out, however, there are actually up to 8000 species of ants.

They have a strong appetite and spend most of their waking lives scavenging for food, it doesn't matter if its a few crumbs or a whole steak they will easily be able to devour it.
An ant infestation in house is a very real possibility so never ignore the situation if you notice the signs such as excess food remains, or suspicious rustling noises in closed of areas of the home.
Wood damage
Many people forget that due to a large number of species you could be dealing with any number of them in one ant infestation. It's not all about food either, so don't think that just because your house is clean and tidy they won't be attracted to it. The carpenter ant is a very real threat, their passion is wood and building a nest which would require a serious Marple ant infestation removal service as soon as possible. Learning about ant control treatment and damage from the experts can make the process of removing an easier experience.
Ant Control - the removal process
A flying ant infestation is a huge problem that can quickly spiral out of control. The carpenter ant can damage your furniture to the point of it falling apart. Other types of ant infestation can devour your food, and even more troublesome is the pests that work outside and devour your crops and plants. Many farmers suffer during the year due to frequent infestations from a variety of ants. Calling the professionals and ordering a proper Marple ant infestation removal treatment service is the only sure fire way to clear them out for the last time.