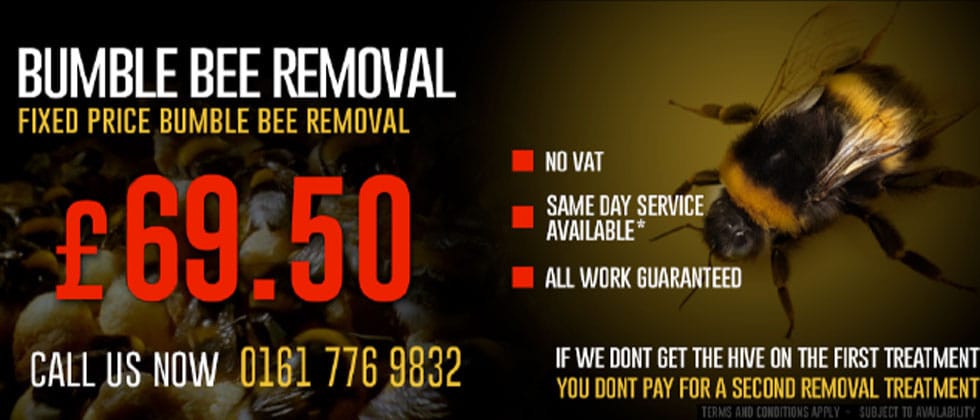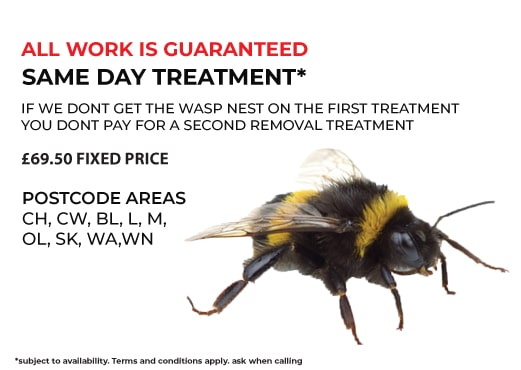 Need Help? Call us on 0161 776 9832 or drop us an email for expert pest control advice on how to identify pest infestations and help solve your problem.
Experienced Leigh BumbleBee Control Services
If you have bumblebees on your property don't risk trying to remove them yourself. Call Young's pest control to have a reliable and experienced Leigh bumblebee control technician come to your home. Our technicians can quickly end your bumblebee infestation and eliminate any nests in your home or garden. Our Leigh bumblebee removal services are available throughout the week, including weekends, so don't hesitate to call if you need a bumblebee nest removed quickly.
Highly Trained And Friendly Team
We employ only highly trained specialist technicians who understand the safest and most humane methods for removing bumblebees from your property. We ensure that throughout the Leigh bumblebee control that you and your family are kept safe. Our Leigh bumblebee control specialists are specially trained to meet the most rigorous safety standards and professionalism.
BumbleBee Swarms On Your Property
Bumblebees will swarm during particular times of the year. This occurs during spring and early summer. Bumblebees swarm because the size of the colony has become too big for the hive. As the nest becomes overcrowded the hive produces new Queen bumblebees. This will be the first sign that the bumblebee colony is about to swarm. This colony of bumblebee will then look to establish a new colony. These swarms of bumblebees may land on your roof or house. Bumblebees swarms can be very disturbing for the residents of the property. However, you should not try to move the bumblebee swarm yourself. Bumblebees can sting and will do so if they are aggravated. Instead, the next step should be to call Young's pest control. We will be able to dispatch a professional Leigh bumble bee control technician to remove the bumblebee colony from your property.
What To Do About Tree Bumblebees
Tree Bumble Bee
One of the most common problems we are asked to solve is tree bumblebee infestations. The tree bumblebee is a relatively new visitor to the UK shores. It arrived from Europe approximately 13 years ago. Since that time it is managed to spread throughout the English countryside setting up nests in many suburban gardens. Tree bumblebees are both more prone to swarming around the hive and aggressively responding to disturbances, than the domestic UK bumblebees. One of the most troubling aspects of the tree bumblebee is their aggressive response if the nest is vibrated. Because tree bumble bees often set up close to houses and shed accidentally disturbing these bumblebee nests is very easy. If you identify tree bumblebees on your property then you need to contact Young's Pest Control so that we can remove the nest.
Young's Pest Control can help you with your bumblebee removal problems. We will work with your schedule to have a Leigh bumblebee control expert visit your home at the most convenient time. Call today to arrange your appointment with one of our bumblebee nest removal technicians.