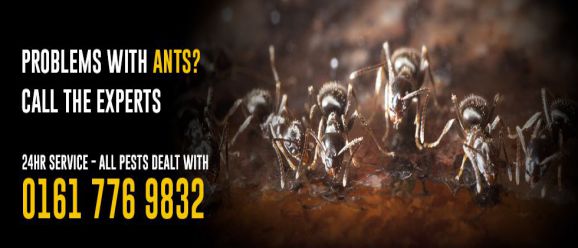 Need Help? Call us on 0161 776 9832 or drop us an email for expert pest control advice on how to identify pest infestations and help solve your problem.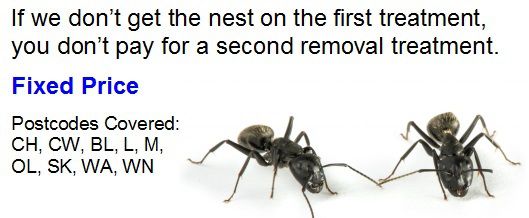 Ince in Makerfield Ant Infestation Removal Services
Identifying an ant infestation
- If you can see ant trails that are tracking across your kitchen or garden, then you have a large colony of ants living somewhere on your property
- If mounds of loose soil, sand or dust have appeared at the edge of walls or in the middle of lawns, then an ants nest is being built near your home
These insects build large communities often with thousands of them in one place, and they work together to find a food supply. And many times, that food is in your kitchen.
How to achieve a complete Ince in Makerfield ant infestation removal
There are different kinds of ants and they behave differently to one another. Knowing their traits and how best to deal with them is the job of an experienced pest technician. Young's Pest Control has the expertise to get rid of an ant infestation with straightforward ant control that is discreet, clean and efficient. DIY methods may work when the numbers of ants are small and the nest is new, but getting rid of something bigger, like a flying ant infestation, or a huge nest, should be carried out by a professional.
Once the insects have been removed, the best way to prevent a further ant infestation in house is to limit the food that is readily available to them.
. Keep the area around your property as clean as possible, so empty the rubbish bins regularly and wash them to get rid of grease. Sweep up too, to make sure there are no crumbs left hanging around.
. Food indoors should be kept in air-tight containers. Sweep floors and the bottom of cupboards and drawers so no little particles of bread or sugar are left behind.
. Don't leave pet food out too long. If it's not eaten soon, then clear it away paying attention to remnants left on the floor as well.
Call Young's to get rid of your ant infestation in the house, or in the garden. We always use the most up to date ant control methods available, and we get the job done. In warm weather, you may find you have a flying ant infestation - this occurs when the young queen ants leave the nest to mate - and we can deal with that too. Our methods of Ince in Makerfield ant infestation removal are safe for children and pets, and we will arrange a visit at a time that suits you.