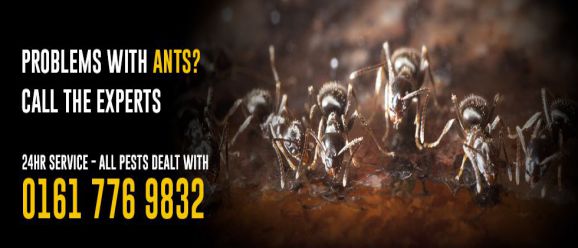 Need Help? Call us on 0161 776 9832 or drop us an email for expert pest control advice on how to identify pest infestations and help solve your problem.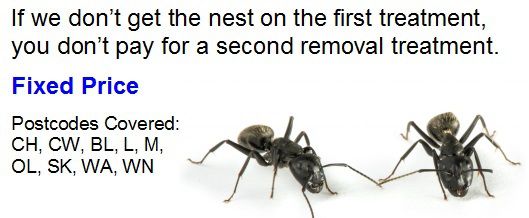 One Call For Golborne Ant Infestation Removal
If you have an ant infestation, it is time to call Young's pest control. Pharaoh's ants and Black garden ants are the main types we have dealt with so many many times as both an ant infestation in house and flying ant infestation. Standing by our word, we show you our experience and familiarity by offering our customers a one hundred per cent satisfaction guarantee. Along with that is our twenty-four hours, seven days a week on-call service for Golborne ant infestation removal treatment.
Young's Pest Control doesn't want you to be bothered twice - first by the pest and then by the bill. That is why our rates are the same whether we come in the middle of the night, on a weekend, or evening. We live where you live, and so we appreciate how strained ants are capable of making one feel.
Ant Identification: A Quick Guide
Are the ants attracted to sweet foods? Are they attracted to all sorts of protein, milk based, blood, and seemingly inedible things such as faeces? The former is typical Black Garden ant foods, while the latter is usually preferred by Pharaoh's ants.
Do they have wings? Pharaoh's ants do. Have you got a flying ant infestation? If so, this is going to require ant control and Golborne ant infestation removal just the same as any other type of ant infestation.
What Colour Are They?
Are they brown or black? Both types of ants can be mid to dark brown, making them a little bit difficult for the average homeowner to identify. Trust Young's Pest Control to be able to discover and deal with the difference.
Why Ants Are Serious Trouble
Along with what germs ants can carry:
They can bite, transmitting that germ to your body

Ants can be a real nuisance in the home, and hard to eradicate

When they cross a floor they leave a scent trail for the other ants to follow

They can find the smallest amount of (acceptable to them) food in places you cannot see

Once ants are inside they are hard to get rid of until you have found every single nest

Colonies get bigger exponentially when untreated
Ant infestation in a house can be dealt with, just give us a ring at Young's Pest Control.