Need Help? Call Us On 0161 776 9832 For Expert Pest Control Advice On How To Identify Pest Infestations And Help Solve Your Pest Problem.
Professional Gatley Cockroach Control
Cockroaches can jeopardise your entire food business by spreading potentially lethal diseases and contaminating food. Here are some details on your responsibilities for Gatley cockroach control as the owner of a food business and on measures you can take to safeguard your investment.
Be warned!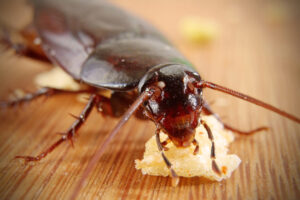 According to Leicester City Council (date unknown), "Regulation (EC) 852/2004 on the hygiene of foodstuffs" requires that suitable measures are implemented to make sure that pests are controlled. The owner of the food business is ultimately responsible for any pest infestations. Leicester City Council (date unknown) warn that if an Environmental Health Officer finds pests on your property there is a risk of the business being closed by Emergency Prohibition Action. If this happens, you could get negative publicity, lose trade and even be required to pay costs in excess of £ 1000.
Take action
In view of the above, it is imperative that you have a vigorous Gatley cockroach control routine in place for your premises. Conducting an inspection during the night can be useful for finding the areas where cockroaches might be foraging (Chartered Institute of Environmental Health, 2009). Leicester City Council (date unknown) recommend that as soon as pest activity is seen, the following action should be taken to make sure that the infestation is eliminated and customers' health is not compromised. The business should be closed until the cockroaches and any other pests have been removed. A qualified, experienced professional should be engaged to inspect the premises and undertake the necessary pest control measures. Therefore you should bring in your pest control contractor or start a pest control contract if necessary. Leicester City Council (date unknown) stresses that the setting out of poisons and baits is a job only for the professionals. This is because baits which are commercially available are not appropriate for use in the food business environment and can even contaminate food.
Our specialised cockroach treatment services
Why wait until your business is forced to be closed down because of cockroaches? Get rid of any cockroaches on your premises long before they can breed. At Young's Pest Control we can offer you immediate Gatley cockroach control services for emergency situations. Then, once your infestation been removed, we can provide you with an on-going programme of preventative cockroach treatment to ensure that no unwanted invaders venture back (Young's Pest Control, 2014). Call us today for all the details on our outstanding cockroach pest control!